Riot's Valorant agent lead John 'MEMEMEMEME' Goscicki was absolutely correct when he referred to Gekko as an "eclectic" agent with chill "friends." Agent 22 plays like butter, has well-timed jokes, makes for a great sidekick, and is a ruthless hero when he wants to be. Finally, after weeks of waiting, the FPS game's new agent is here, and he seems promising.
I firmly believe he'll follow in Chamber's footsteps, however, becoming a pest for the devs. Valorant agent 22 kills without guns, has his own team and has no mercy for mercenaries. Valorant's latest initiator is broken, and I won't be surprised if he gets an instant nerf post-release; you heard it here first.
Valorant agent 22 is an initiator with a bizarre style and a team comprising cute plushie-like animals. According to developers, he has similarities with Kay/O, but Gekko seems like a Viper-Killjoy lovechild. Decide for yourself!
He has a Moshpit, Wingman, Dizzy, and a powerful ultimate called Thrash. His kit is pretty balanced, besides the Moshpit and Wingman, also known as the 'Lil bro.'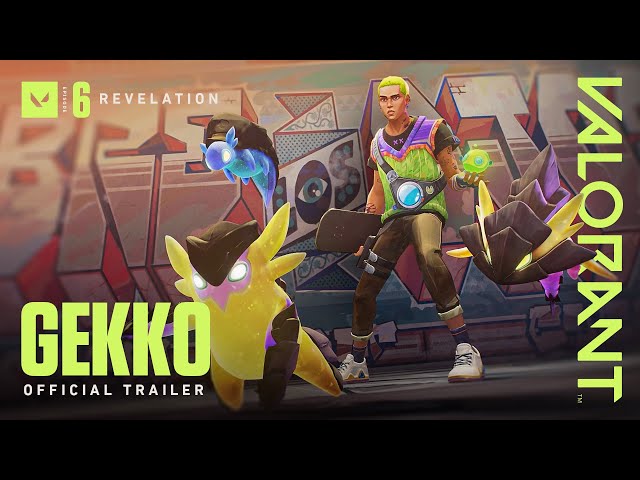 Gekko plays just fine. Nothing too powerful until he whips out his Moshpit in a full stack setup. I tried the agent out at an exclusive play test, jumping into a fast-paced game where everyone was yelling into their mics. So, when Sage tossed her Slow Orb at me, I didn't pay much attention to the incoming green blob. The next thing I knew, my teammate and I were dead, zero shots fired.
Gekko's Moshpit does what no one can. It's like Valorant's own Avada Kedavra; you'll instantly die in the pool of slime. Enemies within range take 100 damage and must quickly escape the puddle, or they're toast. When combined with Sage's Slow Orb or Astra's Gravity Well, Moshpit becomes even more deadly, capable of wiping out entire enemy teams.
And that's before we even talk about the star of the show: the Wingman, lovingly known as Lil Bro. Wingman will be the reason why Gekko will likely get an instant nerf. Besides the unintended cuteness mechanic that'd convince enemies not to kill it, Wingman is capable of total carnage. From stunning enemies and gathering intel to planting the Spike – there's nothing that Lil Bro can't do.
Wingman's interaction with the spike isn't limited to just planting and defusing. Here are some scenarios where Wingman is unfairly powerful:
Gekko gets a free teammate to distract and plant in the one-versus-one situation.
If the Wingman gets shot down, Gekko will still have the upper hand in the form of new information.
While Wingman defuses, Gekko can pick up dropped weapons from across the map, giving him an economic boost.
Paired with Harbor's Cove, Wingman becomes invincible as the ultimate Spike carrier.
With Wingman, defenders will have five attackers to fight to stop the Spike from being activated.
These are only a few situations I observed during my brief playtime. Only time will reveal the full extent of Wingman's potential danger.
Finally, let's not forget that Gekko can use his Dizzy (flash) around six or seven times in a single round. This is also something that no other Valorant character can do. The reusability potential in his entire toolkit is incredible, which is also quite concerning.
Gekko breaks away from the typical initiator mould. Similar to Sage, Gekko's toolkit is irreplaceable, which is why he might become the next staple agent in Valorant, especially in lower ranks. Although higher-ranked players tend to focus on Spike-related strategies, Wingman may still see some playtime on certain maps like Haven and Pearl.
At first look, it seems Riot will have Chamber 2.0 at their hands, an agent that is just impossible to balance. But, rest assured, it's all good news for Sage mains, who are tired of carrying the spike.
You can learn more about Gekko's abilities and Valorant patch 6.04 here. Episode 6 Act 2, brings a brand new Oni 2.0 bundle, battle pass content, and the usual Valorant rank reset, so be sure to check out our list of the best Valorant crosshairs to help you dominate as Gekko.