There's a new free game coming for the mighty Genshin Impact, and it's already pulling in huge numbers ahead of its first closed beta test in April. Watching the Wuthering Waves gameplay demo, you might be forgiven for thinking you were looking at HoYoverse's open-world anime game, but the sweeping soundtrack and flowing combat promise to make this new release stand out on its own merits.
An 11-minute Wuthering Waves gameplay demo revealed by IGN (seen below) shows the player exploring the game's gorgeous post-apocalyptic world, using mid-air grappling hooks and a glider to traverse the environment and flipping between characters seamlessly on the fly as they take on various beasties in slick, stylish action RPG game combat.
Standing out in a field that's already pretty heavily dominated by the likes of Genshin Impact, alongside other games including Tower of Fantasy and even Genshin developer HoYoverse's own upcoming games Honkai Star Rail and Zenless Zone Zero, is certainly no easy feat. But the initial footage for Wuthering Waves, which takes place in the game's opening area, already promises big things.
Wuthering Waves makes a fantastic first impression with its combat, which looks to feature a blend of melee and ranged characters with all manner of distinct combos, launchers, and air juggles. You can switch characters on the fly, and flashy dodge-counters allow you to flip away from attacks at the last moment and punish enemies. Add in the aforementioned travel options and some gorgeous super moves that see your characters summoning spirit dragons and lightning storms, and it's tough not to be impressed.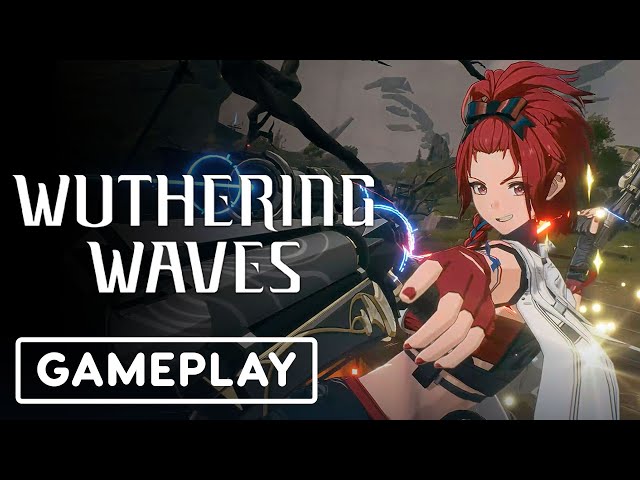 It seems like plenty of people have indeed taken notice – the gameplay trailer has already racked up close to 700,000 views in just a few days, ahead of the game's proposed closed beta test. Among the top comments are praise for the smooth transitions between characters, including mid-air and mid-combo changes, and the way characters vault seamlessly over obstacles.
Others remark on the game's beautiful soundtrack and other sound effects, while those who took part in initial technical tests remark on how dramatically the game has continued to be improved upon and polished as it moves towards wider beta testing.
Wuthering Waves has even gained attention from big YouTubers and Twitch streamers such as Zack 'Asmongold,' who says he's already impressed by the look of the combat and is definitely eager to try the game. While he also remarks on its similarities to Genshin, one top voted comment on the trailer says they hope the comparisons don't work against its success. Of course, such comparisons are likely inevitable – but the initial response certainly bodes well for Wuthering Waves.
Wuthering Waves beta test dates and how to register
The Wuthering Waves closed beta test begins on April 24. Registrations to apply for a chance to take part in the test are already live on the game's official site, and will close on April 14. The game is set to launch initially on PC alongside iOS and Android devices, and players who are successful in their applications may test the device on both PC and one mobile platform.
If you're looking for more to keep you busy in the meantime, check out the latest on the Honkai Star Rail release date and all the details on Genshin Impact 3.6. We've also picked out plenty of the best open-world games on PC, for those of you with the exploration bug.