AMD Navi has been injected into the mainstream with the RX 5500 XT – and this time it's not just for the OEM bigwigs up at corporate. Built on the Navi architecture, the RX 5500 XT 8GB marks the best of the rest for the company's 7nm GPU aspirations in 2019, a mildly confusing attempt to send Nvidia's GTX 16-series house of cards crumbling down before the buzzer.
Let's preface this review with what exactly the RX 5500 XT is and what it isn't, because I don't believe it's been all that clear from the horse's mouth. What was that about simplifying GPU naming schema? Nevermind, eh. The RX 5500 XT is the only component available to PC builders in the RX 5500-series lineup so far, hence the litany of third-party models available day one – including the Asus Dual. As far as we've been told, the run-of-the-mill RX 5500 announced exclusively for OEMs back in October will remain as such for the time being.
That said, you won't miss it. Within both the RX 5500 XT 8GB and RX 5500 4GB sits the same Navi 14 GPU – CU count, clock speeds, and all. Don't be mistaken in thinking that the 'XT' suffix on there will net you more compute units (CUs) as it did the RX 5700 XT/RX 5700 (at 40 and 36 CUs respectively). Both RX 5500 XT cards feature 22 CUs for a total of 1,408 stream processors.
Even the peak engine clocks are the same at (up to) 1,845MHz – a fact that appeared to bewilder even AMD's own product managers in our pre-briefing. We're told the given numbers may be incorrect (they're not), or that these GPUs might be binned for the best performance versus their mobile counterparts (RX 5500M). Regardless, only in OC mode is the Asus Dual able to bat above 1,845MHz.
Why this card is deserving of the 'XT' suffix remains a mystery. But a messy and uncertain launch does not a bad graphics card make. In fact, some of the best graphics cards were born of lacklustre launches. Benchmarking the RX 5500 XT 8GB tell a different story, and it's a story that's full of surprising successes.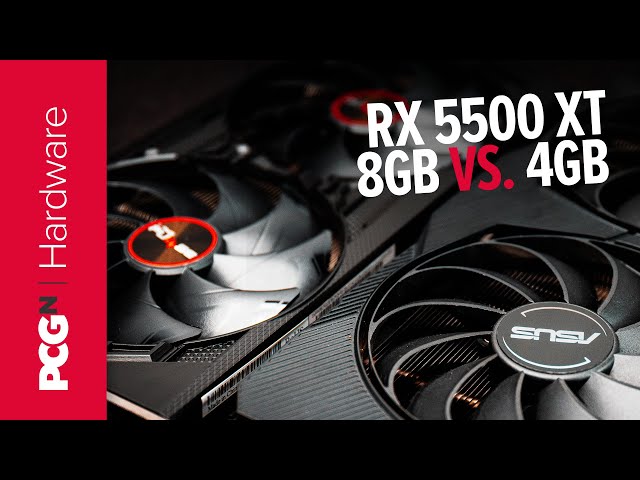 AMD RADEON RX 5500 XT SPECS
The Radeon RX 5500 XT is comprised of 1,408 RDNA cores segmented into 22 redesigned CUs. That's a little shy of the 24 CU count available with fully specced Navi 14, and total parity with the RX 5500 graphics card launched in October for exclusive use by OEMs – such as Dell, HP, Lenovo, etc. AMD has continued the segmentation of clock speeds first introduced with the Radeon VII, and the Dual OC Edition is rated to 1,845MHz boost (theoretically the limit for the Navi 14 GPU) in Gaming Mode, 1,733MHz game clock, and 1,647MHz base clock. In OC Mode, boost creeps up to 1,865MHz.
The RX 5500 XT is available in two flavours: 8GB and 4GB. The 8GB model follows in the footsteps of the RX 580 and RX 590 graphics cards with plentiful memory capacity, and would be the ideal choice for sure-fire triple-A performance and resolutions greater than 1080p.
| | | | |
| --- | --- | --- | --- |
| | RX 5500 XT 8GB | Asus DUAL RX 5500 XT 8GB OC Edition | RX 5500 XT 4GB |
| GPU | Navi 14 | Navi 14 | Navi 14 |
| Lithography | 7nm | 7nm | 7nm |
| Compute units | 22 | 22 | 22 |
| RDNA cores | 1,408 | 1,408 | 1,408 |
| Peak engine clock | 1,845MHz | 1,845MHz (Gaming Mode) / 1,865MHz (OC Mode) | 1,845MHz |
| Memory | 8GB GDDR6 | 8GB GDDR6 | 4GB GDDR6 |
| Memory interface | 128-bit | 128-bit | 128-bit |
| Memory speed | 14Gbps | 14Gbps | 14Gbps |
| Transistors | 6.4bn | 6.4bn | 6.4bn |
| Die size | 158mm2 | 158mm2 | 158mm2 |
| Price | $199 (£180) | £210 | $169 (£160) |
The RX 5500 XT wields all of the improvements first introduced to the Radeon lineup with RDNA – which you can read about in our AMD Navi RDNA architecture deep-dive. For a brief refresher, a revamped RDNA CU is able to double the instruction rate of its predecessor, thanks to an extra scheduler and scalar unit, and its tailored a little more to our humble gaming requirements than previous GCN-based architectures.
AMD tells us that there may be some binning involved in the Radeon RX 5500 XT GPU production – a quick efficacy test of TSMC's best 7nm stock. However, I'm yet to receive definitive confirmation from AMD on the matter.
The company was also quick to mention that the RX 5500 XT, and specifically the Navi 14 GPU at its core, was "not designed for overclocking." It's a mobile chip through and through, the 130W TDP confirms as much, and third-party designs like the Asus Dual will be as close to heady clock speeds as you're going to get.
Speaking of third-party designs. The Dual is likely one of the beefier models you're likely to encounter with the RX 5500 XT 8GB at launch, and features a twin fan design, triple heatpipe design. There are also three DisplayPort 1.4 ports and a single HDMI 2.0 port out of the I/O.
AMD RADEON RX 5500 XT BENCHMARKS
PCGamesN test rig: Intel Core i7 8700K, MSI Z390 Gaming Edge AC, 16GB Corsair Dominator DDR4 @3,466MHz, 1TB Seagate Firecuda NVMe, Corsair H100i RGB, Philips BDM3275
AMD RADEON RX 5500 XT PERFORMANCE
From a snapshot of performance for the RX 5500 XT 8GB it's clear AMD is seeking to challenge the weighty stack of Nvidia 16-series graphics cards in the mainstream market with the RDNA architecture – somewhere between the GTX 1650 Super and GTX 1660. AMD appears more than happy to leave some performance to the imagination between the RX 5500 XT and RX 5700-series, and the GTX 1660 Super and GTX 1660 Ti remain unchallenged.
Looking back through the annals of AMD cards past, the RDNA architecture is clearly a step in the right direction. Finding the sweet spot for performance per watt across OEM, mobile, and mainstream parts in the RX 5500 series, the touted flexibility and gaming strengths of the Navi architecture are evident – outmanoeuvring and outclassing all non-Navi graphics cards with fewer shaders, CUs, and watts.
In terms of pace versus its own, the RX 5500 XT is a decent upgrade on those before it. I'll admit my heart sank when I first laid eyes on the Heaven benchmark, which showed zero… yes, zero… improvement between the RX 580 and the RX 5500 XT 8GB. However, that was swiftly sorted out in the real gaming benchmarks during which RDNA pulls out far ahead.
Going up against the RX 590 the Polaris/Navi divide is a little less clear cut. The RX 5500 XT manages to pull ahead in-game, again displaying RDNA's strengths best, but there's often only a few frames in it game to game – if any. If we average the scores across all runs for both cards there's no discerning between the two.
Yet it's the GTX 1650 Super and GTX 1660 Super that pose the biggest threat to AMD's RX 5500 XT 4GB and RX 5500 XT 8GB, respectively. All that jostling for position and performance with the Super launches throughout the latter half of the year all comes down to this fated battle, and it's no wonder AMD has been reticent to name its price until product landed on the shelves. Nvidia has shown no quarter in shifting its GPU dies and dreaming up new SKUs in order to cement its market position.
But for all its mystery and confusion, AMD wasn't able to prevent Nvidia from brandishing the Super badge atop of the GTX 1660 and cutting any potential lead afforded to the RX 5500 XT by the RDNA architecture. The RX 5500 XT 8GB makes quick work of the GTX 1660, as does even the quietly confident 4GB card at times, yet the GTX 1660 Super remains up to 10% faster.
Memory has once again displayed its worth with the RX 5500 XT – as it did the GTX 1660 Super. The Sapphire Pulse OC RX 5500 XT 4GB managed to keep neck-a-neck with the 8GB Asus DUAL at 1080p – even maintaining higher clocks for longer at times due to its innate OC mode (Asus OC mode has to be manually enabled via GPU Tweak II). Yet at 1440p, most of all across expansive triple-A titles that demand higher VRAM usage, the 4GB Pulse could slip more than 20% under the 8GB Dual.
Well-suited to those on a shoestring budget, the $169 (£160) RX 5500 4GB may run into issue as triple-A videogames demand more and more VRAM – more on that in our RX 5500 XT 8GB vs. 4GB guide.
AMD RADEON RX 5500 XT VERDICT
AMD can find some joy in forcing Nvidia's hand, which has, in turn, benefited the consumer in a number of ways. Not the least of which is a competent sub-$250 Turing graphics card that would almost surely not exist without the introduction of the RX 5500 series.

It also brings the 7nm process and RDNA architecture, "built from the ground up" for gaming, into the mainstream market. And it's about time that Polaris was booted out of office – never mind how we adore it so.
The RX 5500 XT 8GB is quite a feat considering it matches the RX 590's performance and undercuts its heavily discounted price tag. Yet it's exactly the Polaris architecture that's AMD's own worst enemy, because offering nigh-on the same performance per dollar two years following Polaris 30's launch does not inspire gangbusters appeal.
It's rare that so many cards of a previous generation of graphics cards are still in circulation at the launch of another. Back in 2017/18, Polaris cards were the hosts to bloodsucking cryptocurrency miners hoping to make their riches, and AMD's been lumped with spares ever since the bottom fell out of that market. AMD's competitive edge with Navi is softened somewhat by the existing, heavily-discounted stock of RX 500-series graphics cards.
And so rather than breaking the mould, AMD's more-or-less filling it like-for-like with AMD Navi. You'll net yourself some power savings and perhaps a better cooler for your cash, and have no doubt that the RX 5500 XT finally knocks the last nail into the long-toothed RX 500-series coffin.
Regardless, the reference price point of $199 (£180) for the stock RX 5500 XT 8GB places it crucially cheaper than the Nvidia GTX 1660 Super – so long as that price materialises elsewhere beyond a twinkle in AMD's eye.
It appears as though Powercolor is offering a single RX 5500 XT 8GB at the £180 in the UK, matching MSRP and fulfilling the prophecy. Huzzah.
With the Asus GTX 1660 Super Phoenix available for $230, or even the PNY model running for £211 in the UK, we've also established the upper limit of third-party RX 5500 XT 8GB pricing. That doesn't leave me entirely confident in the Asus Dual OC Edition's position in the market at £210 – or any premium third-party RX 5500 XT design for that matter.
So then, does the RX 5500 XT 8GB take the mainstream gaming crown? No, that's still in the hands of the GTX 1660 Super – Nvidia's offering is the better buy on a generous budget. But the RX 5500 XT 8GB is sure to keep AMD fans ticking over, and perhaps even sway a few more over to its sanguine shores.
The RX 5500 XT 8GB maintains, rather than challenges, the status quo. Barring any sudden price drops, we don't expect to see AMD's market share swing confidently in its favour following the launch, either. But what AMD is successful in building, however, is a better card than what you could purchase yesterday in Radeon attire for the same down-payment, offering RX 590 performance in a more elegant and PSU-friendly package.
AMD RX 5500 XT 8GB
AMD is offering a taste of RX 590 performance for less with the RX 5500 XT 8GB, but it's impact has been muted somewhat by bargain basement 500-series inventory and the power of Nvidia's pre-emptive GTX 1660 Super.