Apex Legends Resurrection sees the arrival of the much-anticipated Revenant rework for the battle royale game, and you'll be able to earn the revamped Legend to keep forever by playing Apex Legends Season 18. The new season also sees Respawn bring the Mixtape playlist to Broken Moon, introduce ranked changes to resolve a flood of Masters Apex Legends players, and rebalance with several key weapon tweaks.
The arrival of the new-look Revenant, who now has a new style that leans more into the fantasy of being a terrifying assassin, is marked by him being free for all players to use for the entire duration of Season 18. On top of that, you'll be able to unlock him to keep forever by completing special challenges over the course of the season.
In response to an overly generous ranked system that has placed too many of you in Masters, Season 18 makes improvements to Apex Legends ranked play that will feature more harsh stakes. If you're Diamond or above, you'll face increased LP losses for losing, as well as decreased rating bonuses and loss mitigations. This should help even things out.
As previously discussed, Respawn is also trying to discourage the proliferation Apex Legends ratting in the endgame – referring to players who avoid conflict and stay close to or outside the circle's edge in order to survive as long as possible with minimal fighting.
This manifests in Season 18 with fixes to several popular 'ratting spots' and more to come, ring timings adjusted to increase the number of mid-game encounters, and increased out-of-ring damage to enforce players staying within the safe zone.
There's also the return of shield-cracking Disruptor Rounds, and rather terrifyingly they'll now be available for the Peacekeeper as well as the Alternator. The Prowler, meanwhile, will now be available in the care package, where you'll be able to grab it with its fan-favorite Select Fire option.
The Charge Rifle also gets a full overhaul, and is now a projectile weapon rather than hitscan. This means it now has bullet drop, and it'll no longer fire automatically. However, you're encouraged to try and land those spectacular cross-map shots, as damage actually increases the further away your target is. Full weapon tweaks are listed below, so read on for all the details.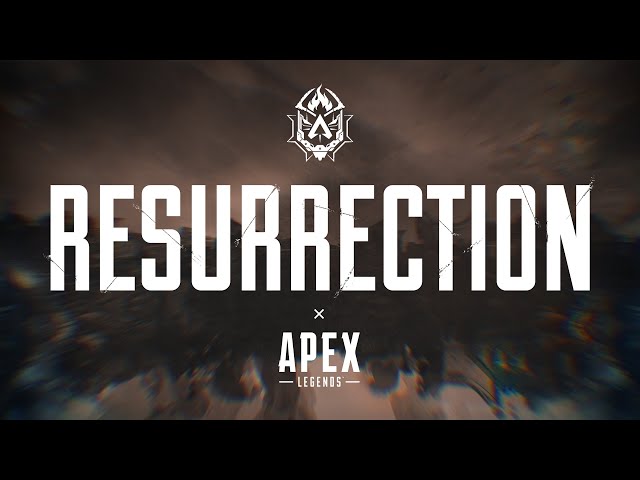 Apex Legends Season 18 Resurrection details
Here's everything announced for Apex Legends Resurrection:
Revenant Rework
Revenant will be unlocked for all players for the duration of Season 18. Complete challenges during the course of the season to unlock him permanently.
Class: Skirmisher – Reveal the contents of Care Packages to see the highest-value item inside.
Passive Ability: Assassin's Instinct – Highlight nearby visible enemies who are low on health. You crouch walk fater and have improved wall climbing.
Tactical Ability: Shadow Pounce – Unleash a powerful pounce forwards. Hold to charge for farther distances.
Ultimate Ability: Forged Shadows – Forge a shroud of hardened shadows around you that block damage and regenerate. Your shadows and tactical are refreshed on cooldown.
Mixtape on Broken Moon
'The Core' hosts Gun Game and Team Death Match.
'Production Yard' hosts Control.
Ranked Play changes
Players in Diamond and above will have increased LP losses, decreased rating bonuses, and decreased loss mitigation.
All ranks now have a minimum bonus for eliminations.
After Season 18, dive trails will no longer be given out as a reward, as players using them are often targeted by others. These will now be replaced with ranked banner frames.
All ranked badges will now default to their animated version at the end of each season.
Increased ring movements to encourage more mid-game encounters.
Increased ring damage in early game and less in late game, to increase pacing and shorten the length of matches.
Fixed parts of the map that allowed for 'rat' tactics.
Weapon changes
Charge Rifle reworked
The Prowler can now be found in the care package, with the addition of Select Fire.
Disruptor Rounds return as a hopup for the Alternator or Peacekeeper.
Mastiff blast pattern tightened for more consistency.
Hemlok returns to floor drops, with a damage and recoil buff.
R-99 horizontal recoil increased, and max ammo reduced (this affects all mags as well as the base weapon).
All SMGs will have reduced strafe speed and a lower headshot multiplier.
Death Dynasty collection event
Runs Tuesday August 8 – Tuesday August 22, 2023.
Features 24 cosmetics – unlock them all to get Revenant's heirloom recolor, the Death Grip.
Make sure to get up to speed on where all the Apex Legends characters are at as Season 18 begins, and browse the best Apex Legends skins so you can drop into the new season in style.