Embodying a hero of the Marvel universe is all about indulging the fantasy of power – and, in the case of Thor, having exquisite hair. However, despite their being five different heroes – Captain America, Iron Man, the Hulk, Black Widow, Thor, and soon to be Ant-Man – this is a game with many different players zooming around a threatened San Francisco, and you don't really want your Iron Man to look and play the same as hundreds of others'.
Thankfully, then, there are quite a few ways in which you can customise your chosen hero in The Avengers. In a behind-closed-doors demo and interview with Scot Amos, studio head at Crystal Dynamics, Game Informer found out a bit more on how this all works. "Every hero has their own skill tree," Amos says. "They have a mix-and-match of skills that you level up through the game. When you invest in those heroes, we give you the chance to say how you customize your character skill tree."
So, in other words, the more your grind with each hero, the more minutely you can tweak them; Scot goes on to say that "your Widow can be different to my Widow" and that's realised through customisation options for your gear, skill trees, and appearance. To me, it seems to best resemble something like a Borderlands game, which also offers a surfeit of different weapon and skin options.
We don't know the full gear list or skill trees in the game yet, but The Avengers reveal trailer that closed out Square Enix's E3 2019 press conference gives us a good idea of the kind of powers we'll be wielding – watch it in full below. In The Avengers gameplay glimpse we can see the Hulk using enemies as projectiles against others and Captain America's electric knuckle dusters.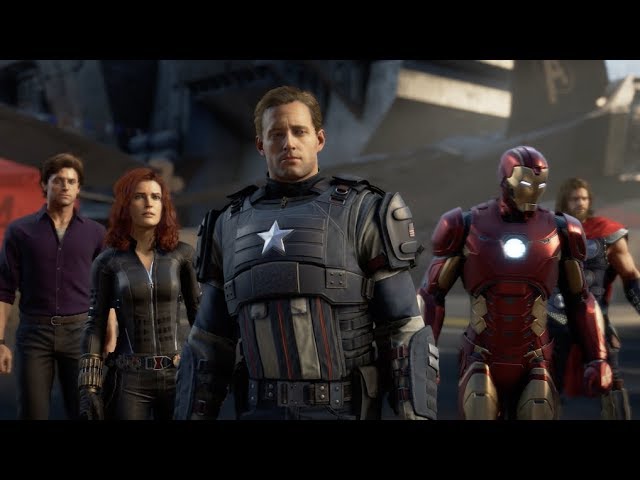 In terms of cosmetics, we can spot a white Iron Man armour suit in the footage, which is highly likely to be an unlockable piece – I imagine his iconic red armour set is the standard one. If collecting skins is in any way as rewarding as it is in Marvel's Spider-Man, we're on to a winner here.
Each of these customisation options are per hero so, if you want to collect them all for each hero, you're going to be plugging away at the game for some time. That's just as well considering that The Avengers is a live service, but still "narrative-focused", game that's intended for budding superheroes to enjoy "over multiple years with regular content drops".
Assemble: The Avengers features Nolan North and Troy Baker
If that tickles your fancy you can sign up for The Avengers beta, although it's coming to PS4, first. Either way, we should get more specifics ahead of The Avengers launch date soon, so we can finally find out the number of hairstyles with which we can embellish Thor's beautiful blonde bonce