Denuvo anti-tampering technology has reportedly been removed from Batman: Arkham City – or at least from the PC version available on the Epic Games store. The Steam version of the game apparently still has Denuvo enabled.
DSO Gaming noticed the removal of Denuvo Anti-Tamper from the Epic Games store version of Arkham City, noting that Funcom has also removed it from the Steam version of Conan Unconquered. Arkham City is currently available for free, along with Arkham Asylum and Arkham City and three Lego Batman games, on the Epic Games store. Conan Unconquered is free to play this weekend as well.
Neon Gaming created a video comparing the performance of the Denuvo and non-Denuvo version of Batman: Arkham Knight. The video shows at best a modest framerate bump (2-3 fps in places) with the DRM disabled, but load times seem to be significantly improved. They tested the game on 'high' settings at 1080p and on 'low' settings at 720p.
When it launched on PC, Batman: Arkham Knight was a bit of a mess. Performance was terrible, and the game ran into problems with SLI setups and VRAM. The problems were severe enough for Warner Bros. to pull the game from sale on Steam. It's back now, and fortunately most of these issues seem to have been resolved – or at least the ones that aren't Batmobile-related.
Here's Neon Gaming's comparison video: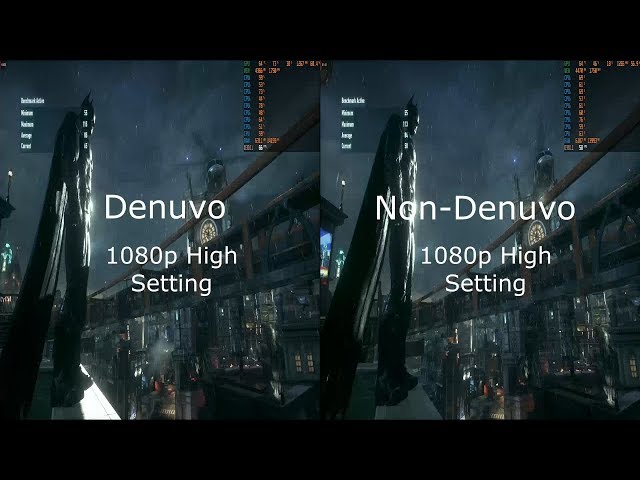 As you can see, the framerate differences between the two builds are pretty negligible. Still, some players may be relieved to see Denuvo gone – and having it enabled on a game you're giving away for free seems a bit counter-productive to begin with.
It's a very Batman-heavy weekend, with Fortnite adding the Caped Crusader and Catwoman to its battle royale mode, and the two packs of free Batman games available from the Epic Games store.