A new BattleBit patch brings a whole new game mode to the immensely successful FPS game, as the team behind the blocky Battlefield competitor also outlines what's next for the shooter in terms of community content, changes, maps, and more. If you're big on BattleBit and want to know about the future, then we've got all you need.
The biggest new addition to BattleBit is undoubtedly the Capture The Flag mode that features 254 players – yes, really. It's available right now, and the team says it is "experimenting" with how the mode copes with so many players, while it will also be playable in 64v64 and 32v32 matches as well.
The team also adds that they plan "to make additional enhancements to Frontline as we are not completely satisfied with its current state of development," with a King of the Hill game mode planned for future patches as well.
Multu Islands is also getting a "ground up" rework, with even more new maps and reworks on the way. You can check it out in action below.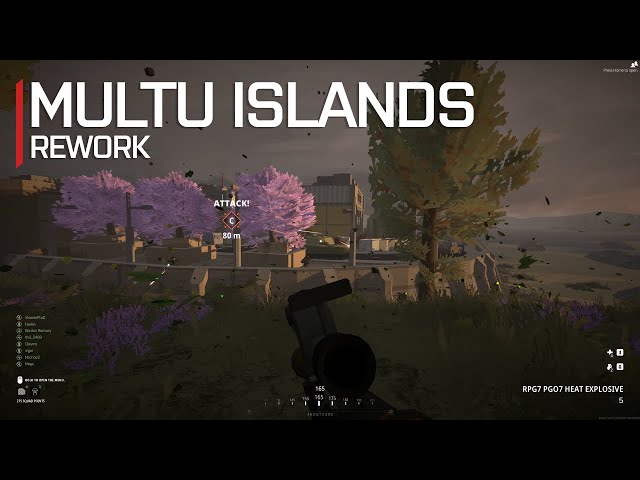 You can also expect a lot of content coming to BattleBit in the near future, with the team outlining a whole slate of game modes that will become available when community servers drop, which is the team's next big focus. The modes include:
Sniper-only servers
Pistol-only servers
More competitive, hardcore servers
More arcade-style, fewer MilSim servers
Flight school servers
Ace Of Spades-style voxel servers
Clan servers
Other servers according to the admin's preferences
There are also a full set of patch notes, which you can see below. Sadly there are no new BattleBit guns in the update, and there's one the team says it'll never bring to the game either.
BattleBit v1.9.3 patch notes
New Game Mode: Capture The Flag!
New Map: MultuIslands
Capture the flag, if flag is carried over to any safe zone, main base etc, it will be auto-teleported back to the flag's spawn point to prevent someone from keeping flag in safe zone
UI improvements for Capture The Flag
The spectator mode has been further improved
Player lag has been improved during rope climbing
The issue where turrets, helicopters, etc. were incorrectly counted as 'shots fired' in stats has been fixed
Spawning on players will not be rewarded until the game starts
Tanks will no longer apply torque when the wheels are not touching the ground
Bullets will only pass through 50% damage when shot through vehicle windows
Salhan – Southern area city buildings were replaced with more durable ones that will block line of sight from A even after destroying it
Salhan and Frugis objectives adjustments based on player feedback to avoid spawn camping
Valley – DOMI 16v16 layout tweaked
Eduardovo – DOMI 16v16 layout tweaked
Namak – roof exploit fixed
incorrect naming of "Support Armor 00 A Big" fixed
If you're really loving the new Battlefield competitor and want to make sure you've got a leg up on the competition, we've got all the BattleBit codes and a rundown of the best BattleBit gadgets for you, to give you the edge.