Fall Guys, Mediatonic's zany and colourful battle royale game, and Counter-Strike: Global Offensive, Valve's gritty FPS game, aren't two titles you'd naturally slot together. And yet, one creative CS:GO fan has created a stupendous mash-up of the two, with a fan map that essentially turns the shooter into a beany bonanza.
Made by creators Teteu and Enrico_srp4, the 'MG_Fallling_Guy' CS:GO fan map is, even at first glance, everything that Fall Guys is. Snapshots of the map in action on its Steam Workshop page showcase the same vividly coloured platforms peppered with zany obstacles that fill the battle royale, with blue skies and fluffy clouds beyond. And, of course, there are those distinctive bean costumes included, which are lined up ready for players to hop into.
The creators say that the map includes 30 minigames to pick from, or you can opt for a random selection via its 'quick play' feature. There aren't details giving us a rundown of what these are, exactly, but from the attached images it looks like there obstacle courses with features like levitating platforms, Fall Guys' infamous spinning level contraption, mazes, and other similar things.
From the images, some of the minigames' names are 'Invisible War', 'Speed Nova', 'Fall Race', and 'Wallhack'. Sure, CS:GO's agents look a little out of place when first stepping into the vibrant Fall Guys-esque world (like this image of the player's weapon-gripping hand pointed at a burst of colourful confetti), but the Fall Guys-inspired skins you can wear look really authentic, so you can look the part in no time.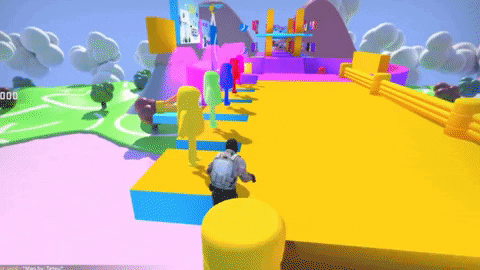 If you're keen to turn CS:GO into Fall Guys, you can head to Steam Workshop here to grab the fan-made map. As ever, mod with caution! And be sure to check out our CS:GO tips and CS:GO smokes guides for some handy pointers.