Dark and Darker patch notes are here for the first major early access update to the cutthroat dungeon-crawling RPG. Developer Ironmace isn't revealing all its changes in detail, but gives us a pretty good overview of what's changed in this big Dark and Darker update. With multiple class changes including a huge Rogue Cutthroat buff, some nice Ranger buffs, and a Bard rework, there's a lot to discover in Dark and Darker patch 1.
This Dark and Darker patch changes a lot, from top-level additions such as sounds for UI, items, perks, skills, spells, and even stepping on water. Two new attributes have been added to the RPG game, Manual Dexterity and Persuasion – the first seems fairly self-explanatory, but it'll be interesting to discover how the latter affects your gameplay. The Bard itself has been reworked to make it "more gear and attribute dependent," which will make it one of the tougher Dark and Darker classes to get going.
Not explicitly listed but reported by many players on the game's official Discord where the patch notes were shared is that merchants are now frequently to be found selling blue and purple gear. That's potentially quite a big shift to balance. There's also a note that "all weapon damage has been rebalanced," with early testing suggesting that Rogue daggers have had some notable nerfs but longbows and crossbows are serving Rangers rather well.
It's certainly not all bad for the sneaky sorts, as a rather dramatic Rogue Cutthroat buff has more halved its cooldown. Meanwhile, the Ranger Quickshot now has a longer cooldown but will fire a different amount of arrows based on bow type used. Their Multishot and Penetrating Shot skills both have their cooldown reduced, while a Wizard Fireball nerf sees its damage dropped notably.
Warlocks have a lot going for them this patch, with two new perks and eight new spells to play around with. Another potentially big change is that torches and lanterns now give you a move speed buff, rather than a penalty – so while Slayer Fighters don't get any direct changes, they'll likely be pretty excited for the potential mobility this affords them.
Elsewhere in the patch notes, animations have been changed for the Dark and Darker Royal Guard boss, there are two new coin storage options to be discovered, seven new emotes, four new artifacts, and the return of the Rusty Iron Door. You can read the full patch notes below.
Dark and Darker patch notes – early access patch 1 – Wednesday, September 27, 2023
Here are the Dark and Darker patch notes for early access update 1, courtesy of Developer Ironmace via the official Discord.
Updates
Sounds have been added to UI, Items, Perks, Skills, Spells, etc.
Water sounds now play when you step on water.
7 new emotes have been added.
A feature has been added to receive server maintenance notices in-game.
Additional protection added against possible security vulnerabilities.
Barbarian and Fighter's face shapes have been modified.
Bard reworked to make the class more gear and attribute-dependent.
Added new attributes: Manual Dexterity, Persuasion.
Warlock's Curse of Pain now has a slightly more generous aim.
2 new perks have been added to Warlocks: Curse Mastery, and Vampirism.
8 new spells have been added to Warlocks: Bolt of Darkness, Evil Eye, Bloodstained Blade, Flame Walker, Life Drain, Ray of Darkness, Eldritch Shield, and Summon Hydra.
Rogue will no longer break stealth when bumped if the Pickpocket perk is equipped.
Rogue's Hide cooldown changed from 45s -> 40s.
Rogue's Cutthroat cooldown changed from 60s -> 28s.
Ranger's Quickshot now fires a different amount of arrows based on the Bow type.
Ranger's Quickshot cooldown changed from 18s -> 28s.
Ranger's Multishot cooldown changed from 35s -> 28s.
Ranger's Penetrating Shot cooldown changed from 28s -> 24s.
Hunting Trap only deals 1 damage per second at all rarities.
Wizard's Fireball damage changed 30/15 -> 25/10.
All weapon damage has been rebalanced.
Most armors have been updated and give additional bonuses in addition to just armor rating.
Armor rating curve is slightly reduced at the upper end due to the higher overall armor values.
The value range of most random modifiers has been rebalanced.
Battle Axe now has a slightly longer range.
Torches and Lanterns give a slight movement speed advantage rather than a penalty.
Rarity-specific skins have been added for the Drum and Lyre.
A Coin Bag that holds up to 500 gold coins has been added. Must be crafted at the Leathersmith.
A Coin Chest that holds up to 3000 gold coins has been added. Must be found from the Treasure Hoards.
4 new artifacts have been added: Echo of Screams, Soulreaper, Deathbloom, and Stinky Stick.
Cloak's cloth simulation has been slightly optimized.
Item skins are now displayed properly on the paper-doll.
Lockpick drop rate has been increased.
The names of level modules are now displayed on the minimap.
Additional layouts added to the Normal Goblin Caves map pool.
High-Roller Crypt maps increased from a 4×4 to a 5×5 size.
The Normal and High Roller Crypt now share the same map pool.
Added an extra Dark Swarm's phase so players don't need to traverse as much distance at once.
Updated environments for approximately 40 level modules.
Level object density for Ruins and Crypts has been increased.
A portal has been added to the outskirts of the Ruins.
The Rusty Iron Door has been re-added to the High-Roller pool.
New Royal Coffins have been added to the dungeons.
Previous Gold Chests have returned to the dungeons as Marvelous Chests.
Additional attack patterns added to the Nightmare version of the monsters in the Goblin Cave.
Skeleton Champion animations have been updated.
Royal Guard animation has been updated.
Ruins Golem sub-boss has been added.
Merchants updated to sell a much larger amount and variety of items.
Greater Luck Potion has been added to the Fortune Teller.
New craft and mining items added.
Equipment Slot filter has been added to Trading Post.
Trading Post now displays a Timestamp.
Several other changes not listed were included.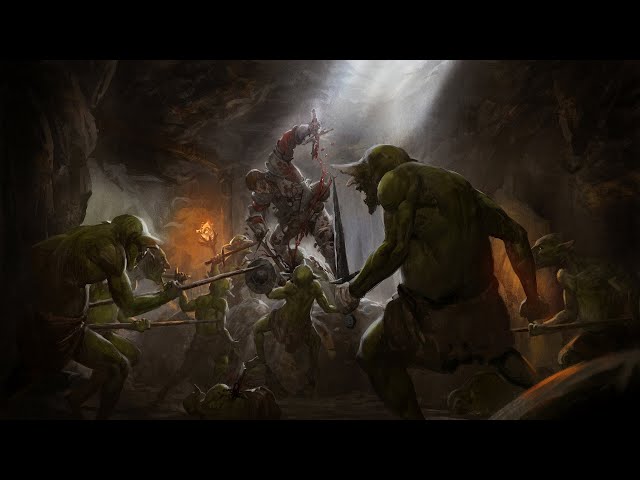 Fixes
Fixed an issue where the player character's hair could appear strangely depending on the head armor.
Fixed an issue where the player character's inner face could be exposed.
Fixed an issue where T pose could be exposed when consuming a potion.
Fixed an issue where the ankles could appear turned when sitting down after wearing the Battle Axe.
Fixed an issue where Reactive Shield and Dark Reflection could not be activated.
Fixed an issue where sometimes item options were not created properly.
Fixed an issue where the Torch skin was missing animations.
Fixed an issue where the lantern would sometimes not light up.
Fixed an issue where hit sounds would be played when goblins die.
Fixed an issue where Dark Swarm's next area could be designated as the outskirts of the map.
Fixed an issue where if you drank a potion and used Stealth outside of Dark Swarm, Stealth would not be broken even if you took damage.
Fixed an issue where the Trading Post's rarity filter was sorted by name rather than by rarity.
Fixed an issue in Trading Post where text that was too long would disappear instead of being printed to the next line.
Fixed an incorrectly installed portal.
Fixed an issue where Warlocks could not be granted Karma.
Fixed background objects with incorrect collision.
Fixed several issues that were causing crashes.
While we await the full Dark and Darker release date, Ironmace says that a Dark and Darker Steam return is in the hands of Valve. We'll keep you up to date on any further developments there, but in the meantime there's plenty of the best free Steam games to keep you busy.