The Dark and Darker release date is some way into the future, but that hasn't stopped the RPG game becoming the stand-out hit of the latest Steam Next Fest. During its latest playtest in February, the difficult dungeon-crawling fantasy game catapulted to the top of the Steam charts – despite only having a release date window so far.
Whether you have played any of the Dark and Darker playtests or not, you might be intrigued to find out more about the action-RPG game, and when it might be arriving in its full form. If you like challenging PvPvE, fantasy, and dungeon crawling, Dark and Darker is definitely for you, as you and your friends trawl through terrifyingly dark dungeons searching for treasure, battling monsters, and surviving against – or taking out – other teams. Survive long enough, and you'll be able to extract with your loot. Die and you lose it all. Having dabbled in the beta ourselves, here's everything you need to know about this unique fantasy RPG, the Dark and Darker release date, trailers, classes, perks, and more.
Dark and Darker release date window
The Dark and Darker release date was originally set for Q4 2023, though unfortunately there is no specific date just yet. However, this is no longer on the official Steam page for the game, so Developer Ironmace may have decided to remove any commitment to a time period.
We're not sure when we'll get a Dark and Darker release date announcement, but we do know that the game will first be released into early access, presumably towards the end of 2023. There were a few bugs and issues during the recent playtest, the fourth so far, resulting in the playtest being extended, so releasing the game in early access gives the developer a chance to iron out any further issues that might arise with an online multiplayer game.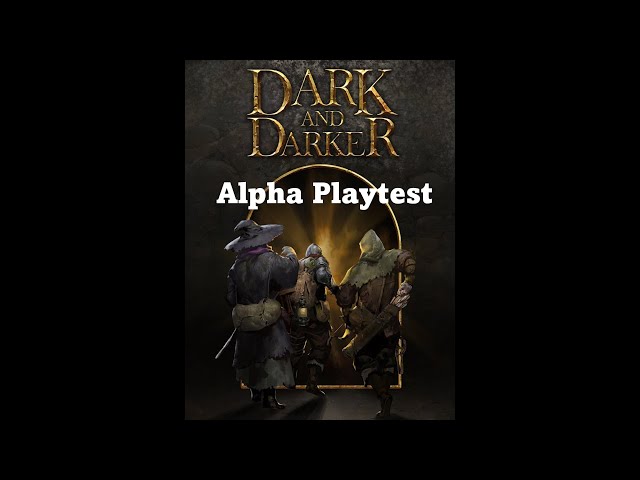 Dark and Darker trailers
There is only one trailer on the Dark and Darker YouTube channel so far, and it's actually a playtest teaser. Nevertheless, it's perfect to familiarise yourself with what to expect from your dungeon crawling adventures. You can see some of the weapon choices, including melee and ranged attacks, and even a classic fireball, as well as just a handful of the enemies waiting for you in the dark.
Dark and Darker gameplay
Dark and Darker is a fantasy RPG game unlike any you've seen before, combining classic fantasy and role-playing with dungeon crawling and even extraction mechanics. Whatever happens, in order to keep new loot, earn gold, and level up your character, you must survive long enough for your escape portal to appear, and get the hell out. In itself, this gives Dark and Darker players the option to choose how to proceed. Do you go in all guns blazing and hope your magic, sword, or longbow are strong enough to take out anything that gets in your way? Or do you take your time, snuff out nearby torches, and sneak around the dungeon walls, looting chests and avoiding combat for as long as possible?
As we've come to expect from RPGs in general, there are certain ways to level up and buff your player before entering battle. For the most part, in Dark and Darker, these are perks and skills, with some of the Dark and Darker classes able to use magic as well. Perks are passive, and offer a buff when a certain condition is met. For example, one of the barbarian's perks is a 10% physical damage bonus when not wearing any chest armour.
Skills, meanwhile, are equipped to your Q and E buttons, and must be triggered when you need them, each with its own cooldown period. Some of these can support your allies for a time by, for example, temporarily increasing everyone on your party's HP, and all must be used at the right time. For example, if you're a ranger caught in a battle with a particularly mobile opponent, you could trigger the Multishot skill, which allows you to fire five arrows at once.
While you're limited in choice of both perks and skills to start with, you can add to them through training, which is separate for each of your characters. While the training feature was blocked during the last playtest, we can see that new perks, skills, and items are all hidden behind the Class Master's training system, and can be unlocked by working your way through its tiers.
Next Dark and Darker playtest
The next Dark and Darker playtest has been announced, and is taking place between April 14 and 19. The dev team has teased in a Discord post that there will be new mechanics to test, and that it will last slightly longer than previous playtests for that reason.
That's everything we know about Dark and Darker for now. If you missed out on valuable playtest time and want to get a headstart on the competition for next time, Ironmace has put together a handy cheat guide to get you started. Otherwise, make sure you're up-to-date on the Dark and Darker system requirements, as well as whether the fantasy game is Steam Deck verified, so you're ready for the Dark and Darker release date when it finally arrives. With this much popularity early on, we could be witnessing the development of one of the best PC games this year.