When was the Dark and Darker release date? Following an incredibly hot start in early playtests, Dark and Darker and its release date became shrouded in mystery due to copyright accusations and law suits. Luckily, a change in publisher moved things forward, and, ahead of a full release date, the game is now available to buy in early access.
Whether you played any of the Dark and Darker playtests before release, have purchased the game already, or are simply interested in the multiplayer game, it's hard to have missed the furore surrounding it. Initially met with incredibly positive feedback, the surprise hit's immediate mass of followers were let down by a dramatic court summons that threatened to halt production altogether. Finally, the challenging PvPvE was taken on by a new publisher, Chaf Games, and has been released in early access. So, as you look ahead to trawling through terrifyingly dark dungeons searching for treasure, battling monsters, and surviving against – or taking out – other teams, here's everything you need to know about the Dark and Darker release date, editions, and more.
Dark and Darker release date
Dark and Darker was released into early access on Monday, August 7, 2023. You can purchase the current version of the game, but be aware that early access games are still a work in progress.
Currently only available for purchase directly through the game's official website, Developer Ironmace states it will still seek a return to Steam for the game's full release. Dark and Darker was removed from Steam following the alleged cease-and-desist from Nexon, though we received some indication that it might soon be back on Steam thanks to updates to the ARPG on the backend of the platform. Given that the Dark and Darker early access delay coincided with its removal, this may point to ongoing discussions about Dark and Darker's release taking place behind the scenes.
Dark and Darker editions
In early access, there are currently two versions of the game available for purchase, with one coming with some great bonus gear.
Standard edition
The standard edition includes the game itself, naturally, and early access to the game right now. Buying the standard edition for $35 also grants you five bonus Bluestone Shards.
Founder's edition: Hold the Line
Capitalizing on the phrase that became popular among fans during the game's delays and is now almost synonymous with the game, the Hold the Line Founder's edition comes in at £50. It includes everything in the standard edition, as well as the following bonus features:
Future dungeon test access
New character race: Skeleton
Blue torch item skin
Hold the Line emote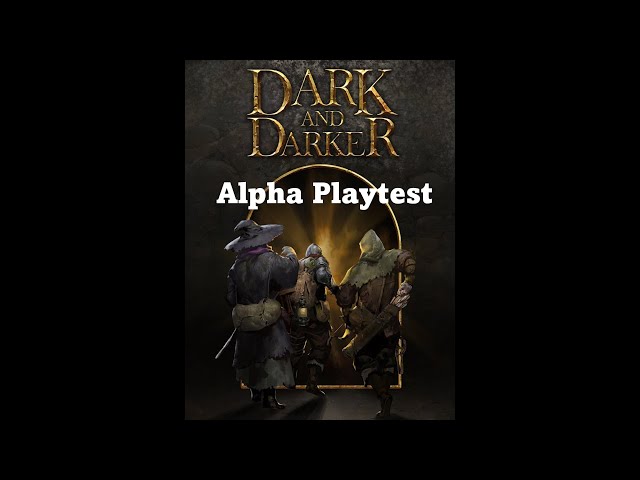 Dark and Darker trailers
There is only one trailer on the Dark and Darker YouTube channel so far, and it's actually a playtest teaser. Nevertheless, it's perfect to familiarize yourself with what to expect from your dungeon-crawling adventures. You can see some of the weapon choices, including melee and ranged attacks, and even a classic fireball, as well as just a handful of the enemies waiting for you in the dark.
Dark and Darker gameplay
Dark and Darker is a fantasy RPG game unlike any you've seen before, combining classic fantasy and role-playing with dungeon crawling and even extraction mechanics. Whatever happens, in order to keep new loot, earn gold, and level up your character, you must survive long enough for your escape portal to appear, and get the hell out. In itself, this gives Dark and Darker players the option to choose how to proceed. Do you go in all guns blazing and hope your magic, sword, or longbow is strong enough to take out anything that gets in your way? Or do you take your time, snuff out nearby torches, and sneak around the dungeon walls, looting chests and avoiding combat for as long as possible?
As we've come to expect from RPGs in general, there are certain ways to level up and buff your player before entering battle. For the most part, in Dark and Darker, these are perks and skills, with some of the Dark and Darker classes able to use magic as well. Perks are passive and offer a buff when a certain condition is met. For example, one of the barbarian's perks is a 10% physical damage bonus when not wearing any chest armor.
Skills, meanwhile, are equipped to your Q and E buttons and must be triggered when you need them, each with its own cooldown period. Some of these can support your allies for a time by, for example, temporarily increasing everyone on your party's HP, and all must be used at the right time. For example, if you're a ranger caught in a battle with a particularly mobile opponent, you could trigger the Multishot skill, which allows you to fire five arrows at once.
While you're limited in choice of both perks and skills to start with, you can add to them through training, which is separate for each of your characters. While the training feature was blocked during the last playtest, we can see that new perks, skills, and items are all hidden behind the Class Master's training system, and can be unlocked by working your way through its tiers.
That's everything we know about the Dark and Darker release date for now. If you want to be among the best of the best in early access, Ironmace has put together a handy cheat guide to get you started. Otherwise, make sure you're up-to-date on the Dark and Darker system requirements, as well as whether the fantasy game is Steam Deck verified, so you're ready for the Dark and Darker full release date when it finally arrives. With this much popularity early on, we could be witnessing the development of one of the best PC games this around.