Dead by Daylight chapter 28 has been confirmed as another original story, and the unlicensed new killer, survivor, and map are sure to upset some fans of the horror game. Historically, the anniversary chapter, falling in June every year, sees the release of a licensed collaboration, such as Silent Hill's Pyramid Head or Resident Evil's legendary Nemesis, who both fare well in our DBD killer tier list, and fans were hoping for something similar going into year eight. One leak did suggest that the new Dead by Daylight killer would be Alien, and, to be honest, it's not far wrong.
The new original chapter instead takes Dead by Daylight into a realm never explored before, as we land on an alien planet and experience sci-fi horror for the first time in DBD. Some of the earlier leaks and suggestions that that anniversary would feature Alien weren't entirely wrong, as the new killer is a sort of bio-mech creature with a superior intelligence that has turned on the human race. Called The Singularity, this new killer has the ability to launch fleshy pods which can stick to any surface – even survivors. The Singularity can project its consciousness into these bio-pods to survey the map and spy on survivors, giving it valuable information. For better context, we imagine this mechanic to play out similarly to Charlotte and Victor.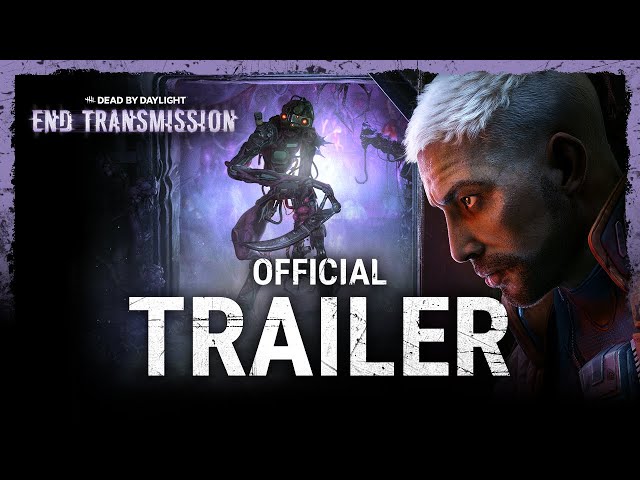 The new survivor is called Gabriel Soma, and was the last remaining human on this planet (until, of course, the Entity lured him into the Fog). As the first survivor with voice lines in his trailer, Gabriel hints at even more potential changes coming to the game, as only licensed characters up until this point have had dialogue. We already know that Nicolas Cage himself has recorded voice lines – as well as all his own grunts and groans – ahead of his incredible and surprising debut as a DBD survivor.
Gabriel is an expert technician, and his perks reflect this, adapting toolboxes to repair generators faster. He also has an aura reading perk, and a perk which helps to safeguard against the killer, so he's a pretty good all rounder.
A new survivor item is also being introduced as part of the End Transmission chapter – The EMP. Only showing up on any map when you go up against The Singularity, the EMP works like Wesker's First Aid Spray or The Pig's Jigsaw Boxes. Survivors can use the EMP to spot and disable the killer's biopods, and also remove the Singularity-exclusive 'Slipstream' effect. This slipstream effect happens when the survivor is hit directly with a bio-pod, and allows the killer to teleport to the affected survivor's location. Unlike most other killer-exclusive map items, the EMP won't just disable your own slipstream effect, but that on any other survivor, too.
Finally, this is a full chapter, so there is of course an all-new map as part of a new Entity realm. Toba Landing is unlike anything you've seen in Dead by Daylight before, with colorful alien flora dotted around the gloomy, misty surface of this strange planet. The main building comes in the form of a spaceship, while the hooks are covered in the same gloopy organic matter The Singularity has consumed.
Despite being an original chapter, we think End Transmission heralds a new era of Dead by Daylight, and one everyone can get excited about. While it might be a little close to this anniversary chapter, with two licensed killers also on the way in year eight, perhaps we can't write off an Alien sighting yet. This sci-fi entry certainly opens the door to a lot more content, both licensed and original, in future Dead by Daylight chapters.
The new Dead by Daylight killer and survivor are available in the PTB on May 23, and Chapter 28, End Transmission is set for release on June 13, 2023. The new chapter was just the tip of the iceberg in the anniversary broadcast, in which DBD Iron Maiden and Slipknot collaborations were announced for the multiplayer game, alongside much-needed survivor disconnect bots, which led a slew of new quality of life changes. Oh, and don't miss our updated list of the new DBD codes.