Dead by Daylight is one of the world's most iconic horror games, due largely to Behaviour Interactive's frequent updates and the studio's quick response to player feedback. Whether you play as a killer or a survivor, the spooktacular thrill Dead by Daylight provides is unmatched. In DBD's latest public test build, the fun is brought to a whole new level with the addition of the best survivor yet. Nicolas Cage, DBD's first real public figure to join the cast, is now a playable character in-game. We've all watched him before, but now we can become him.
One of the most beloved actors of our time is coming to one of our favorite games in a match made that could only have been made in heaven. Nicolas Cage has truly done it all now, as he takes on the role of a fictional version of himself in DBD. While on set in-game filming a new role, the actor's performance summons The Entity, a new killer from the Dead by Daylight End Transmission update. He is then trapped within an otherworldly fog, fighting to survive a force much more evil than even the harshest film critic.
"To say we are thrilled to have Nicolas Cage join the gaming world for the first time with Dead by Daylight is an understatement," Behaviour Interactive's head of partnerships, Mathieu Côté, stated on the addition of the new survivor. "Cage recorded all his voice lines and was involved every step of the way; his dedication to his craft and professionalism is unmatched."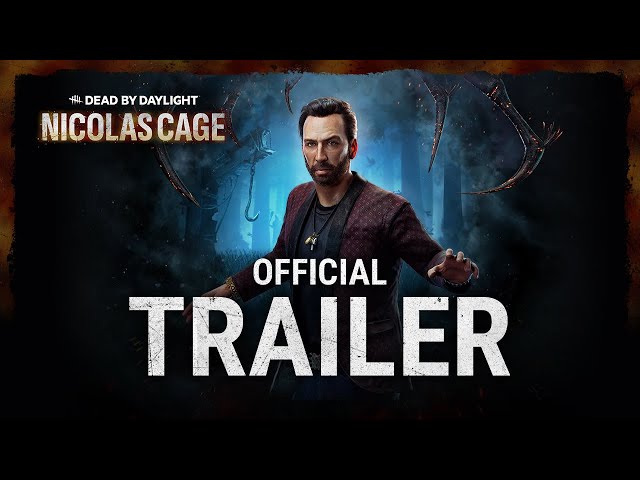 Nicolas Cage comes with three brand-new character perks in DBD, starting with Dramaturgy. You can allow your instincts to take over during moments of heightened intensity with this perk, but you won't be able to predict the outcome. Scene Partner is the next added perk, and you can use it to stare at the killer and gain a deeper insight into their process, allowing you to better anticipate any following actions. The final perk is Plot Twist, described by the devs as a "second-to-none ability" which lets you "get deeper into character than ever before, making a bold decision that's as risky as it is rewarding."
The actor is available to play as now on Steam. The Dead by Daylight Nicolas Cage Chapter will be available for purchase on Tuesday, July 25, along with the exclusive chapter pack. If you don't use Steam, no need to worry as the chapter and its accompanying pack will be available for purchase on the Epic Games Store and Windows store then, too.
Be sure to look through our round-up of Dead by Daylight codes for this month while you wait to buy the chapter. You can also browse some of our favorite multiplayer games if you love playing DBD with friends. We also think you should check out why we think Nic Cage should change the future of other survivors.