When is the Evercore Heroes release date? A 'player versus enemy' competitive MOBA is an interesting proposition – unlike Evercore Heroes' competitors, you won't be directly facing off against your other human opponents in a game, instead, you'll be clearing the local area of wildlife in an attempt to stave off the inevitable destruction of your home base. The only hope is that your opposition is having a much harder time with the flora and fauna than you.
Evercore Heroes has a decent pedigree in the MOBA games sphere, with ex-League of Legends devs in the mix, offering their own battle-weary take on how your little champions should behave. It's easy to see this experience when you watch the trailer – each Evercore Heroes character has their own personality, flashy move sets, and is legally distinct enough to not cause confusion with other fantasy games you may have played in the past.
Evercore Heroes release date speculation
Developer Vela Games has set expectations that the Evercore Heroes release date will be in 2024, and since the closed beta is already underway, we'd hazard a guess that it's going to be early on in the year.
The game is currently only set for release on PC, but depending on the outcome of the currently ongoing closed beta, this could be set to change although nothing official has been announced yet. If you can't wait for the full release, you can gain access to the Evercore Heroes closed beta now, which launched on Tuesday, June 20, 2023.
Evercore Heroes closed beta
If you absolutely cannot wait to get stuck into the new MOBA, you can head to their website and pre-purchase the game, which will give you access to the closed beta going on right now. The closed beta is already shaping up to be a fairly complete package, with a battle pass, a full suite of cosmetics on offer in the store, and more than a few maps to play.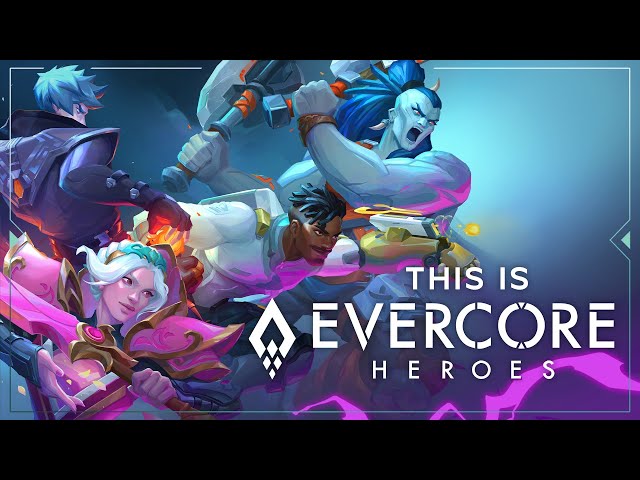 Evercore Heroes trailers
The official gameplay trailer shows off the four classes of characters and the bigger role they'll play in your game. It also takes a slightly deeper dive into the objectives you'll be fighting for when defending your Evercore in a game – bulbous plants, little beetles, big minotaurs, it's got the lot.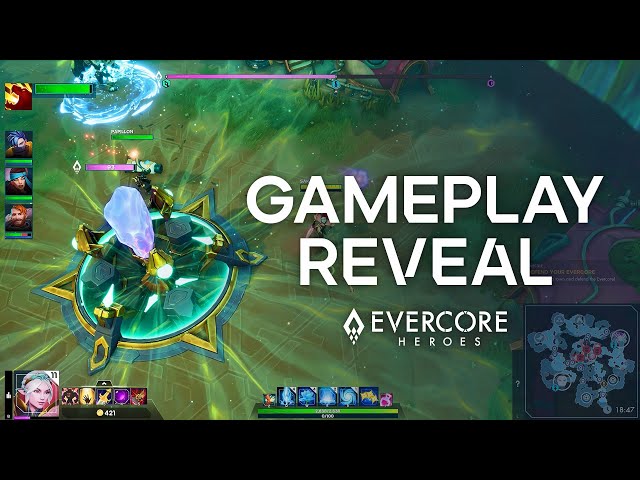 It also gives us a peek at the character customization options, in both a cosmetic and overall build and power sense. Take Fyn, for example, he's a big, friendly, ginger man who wields a rather large shield to protect his friends. There are several skin options at the bottom of the screen, as well as an emote wheel and a set of talents. Talents are upgrades you can apply to your hero to subtly change how they play and feel, leaning into your own personal playstyle.
Evercore Heroes gameplay
Evercore Heroes begins in a similar fashion to any traditional MOBA with a round of character selection. There are no bands here, but since you aren't directly clashing with your opponents we'd say that's fair. You also get a sneak peek of the map you'll be playing on, so those in the know can begin formulating a plan straight away.
From there, you're thrust into the world and given free rein on what to do next. The overall objective is to stop your Evercore from taking damage. If your Evercore gets to zero health, you're out. You must defend this central location whenever enemies approach.
You must balance this defense with the Evercore Heroes' particular brand of offense – taking objectives and defeating enemy camps on the map will send more minions to attack your human foe's Evercore. It's all about finding a balance between defending and venturing out.
Once there are only two teams left, you're transported to the final encounter, where you'll be tested with wave upon wave of creatures, while your opponent does the same. If you manage to keep your Evercore in one piece longer than the enemy can, you're crowned the winner.
It might sound simple enough, but in an exclusive interview with PCGamesN, Vela Games' marketing operations lead, Trey Douglas, explains that the game goes against the community's belief that PvE should be "simple or easy", saying that the team "really believes that deep, masterful, cooperative PvE experiences can be just as intense as any game out there."
Don't mistake Evercore Heroes for a League of Legends killer though, as Douglas also tells us that this is far from what it was designed to be. "I think we're offering something completely different to other games, so that comparison isn't super valid," he reiterates.
Now you know the release date window for Evercore Heroes, you can either opt for the closed beta, or skulk in the shadows, biding your time. If you want to wait for the full release, check out the most exciting upcoming PC games here, and even the best PC games – you're sure to find something that tickles your fancy there.