When is the Exoprimal release date? It may not be the next Dino Crisis, much as some of us wish for a return of that series, but Exoprimal is looking to be its own savage beast of a game. In Exoprimal, teams fight to be the best-performing squad by competing in objective-based missions where they take on swarms of dinosaurs.
However, this action-adventure game is more than just an excuse to slaughter prehistoric creatures. By the time the Exoprimal release date rolls around, players will need to cooperate with the sentient AI, Leviathan, who is gathering data on the performance of the Exofighters. Here is everything you need to know about the latest dinosaur game from Capcom.
Exoprimal release date
The Exoprimal release date is Friday, July 14, 2023, and will be available on Steam, Xbox Series X/S, Xbox One, PlayStation 5, and PlayStation 4.
A deluxe digital version will feature the Survival Pass Season 1: Premium Tier. Also included are the Head Start kit, unlock tickets for Vigilant, Murasame, and Nimbus, and the White Guardian and Wonderland Exosuits.
Exoprimal crossplay
Exoprimal supports crossplay and cross-platform matchmaking between PC and consoles. You can do this by signing up to Capcom ID, which you need to link to in order to play the game, as it's an online-only game.
Exoprimal betas
The second Exoprimal beta test, which took place in March and focused on testing cross-platform matching, has now ended. Don't expect to see any more betas between now and release day.
Exoprimal Game Pass
You can play Exoprimal on Xbox Game Pass from day one. This was confirmed in recent trailers leading up to the game's release.
Exoprimal trailers
Set in the year 2043, you take on the role of Ace, an Exofighter who is part of the Hammerheads squad that crash lands on Bikitoa Island during a routine patrol mission. They encounter Leviathan, who seems more interested in simulating war games than helping the team, with each one taking place three years prior and summoning dinosaurs filled with Hi-Xol, a by-product of time travel that is the key to solving an energy crisis.
Exoprimal gameplay
In the multiple trailers shown so far, we see Leviathan, a sentient AI, force two teams of four players to compete against each other to kill the most dinosaurs. Players can hinder their opponents and aid their allies with their abilities, depending on which Exosuit they wear.
Exosuits come in three different roles. Assault Exosuits specialize in dealing damage with all the weapons in their arsenal, while the Tank protects their allies with the various means open to them, such as erecting shields. Support doesn't always mean they can heal fellow allies while buffing the team.
Confirmed Exoprimal Exosuits
With that in mind, here are the confirmed Exoprimal Exosuits and the role they operate under:
Deadeye – assault
Zephyr – assault
Roadblock – tank
Witchdoctor – support
Barrage – assault
Vigilant – assault
Murasame – tank
Skywave – support
Krieger – tank
Nimbus – support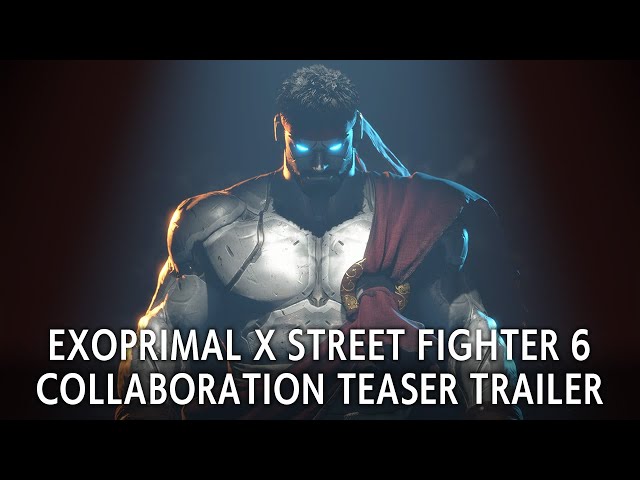 Exoprimal x Street Fighter 6 Collaboration
Capcom announced during its Summer Game Fest stream that a collaboration with Street Fighter 6 includes cybernetic versions of Ryu and Guile as Exosuit skins. There's no confirmation as to what type of Exosuits these will be, but we suspect more information will arrive before the collaboration launches in Fall 2023. Other collaborations are coming soon, so who knows, we may see the return of Regina from Dino Crisis.
That's everything you need to know about Exoprimal release date and all of the game details we know so far. We have the Exoprimal system requirements if you need to check to see if your PC can run it. For other games coming in the year, check out the upcoming PC games to see what's coming later this year.