What is in the Exoprimal roadmap? If you've dipped your toes into Leviathan's wargames, slaughtered the dinosaurs, and somehow managed to gather all of the data to escape Bikitoa Island, chances are you're looking for a greater challenge. After all, there are only so many times you can face off against a thousand raptors on a bridge or a massive T-Rex before these simulations become stale. Thankfully, Capcom plans to support the multiplayer shooter with additional content appearing in new seasons.
Some of the features on the Exoprimal roadmap will expand on the game's mission offerings, while others will introduce new rigs and modules that could potentially affect the Exoprimal tier list rankings. We also know of at least two collaborations with other Capcom titles, so if you want to know what's next for the dinosaur game, allow us to guide you through everything Exoprimal will offer in the next year or so.
Exoprimal roadmap seasons
So far, we know what's coming to Exoprimal roadmap in the next three seasons' content. This lasts from July 2023 until April 2024. Here is what you can expect in each season:
Exoprimal season 1 features
The first bit of content in the Exoprimal roadmap is season 1. While it has already started as of July 14, it lasts until October 12, and the content updates will be staggered. During this time, you can expect to see three major features:
Savage Gauntlet mode will be added on July 28. This is a new co-op game mode.
Ten Alpha variants of existing Exosuits will be available from August 17. These all have new weapons.
Weekly rotating PvE missions designed for replayability during the endgame.
Savage Gauntlet is a time-trial challenge that will appear separately from the Dino Survival mode. Teams of five will compete to rank on the leaderboards, with ever-changing rules that update weekly. This is considered endgame content and, thus, is balanced at the upper end of the difficulty spectrum.
As for the alpha Exosuit variants, here are all the differences from the original Exosuit classes:
Deadeye – has a shotgun/burst rifle instead of an assault rifle.
Zephyr – throws chakrams that increase in power when hit at range.
Barrage – has a rocket launcher that can be charged up, and it can also attack from the air.
Vigilant – now has a semi-automatic rifle and increased maneuverability.
Roadblock – places energy shields and has an arm-mounted shotgun.
Krieger – comes with a chargeable shotgun with both wide-spread and compressed firing options that cause knockback damage to dinosaurs, damaging those they collide with.
Murasame – has added freezing properties for its new ground-based wave attacks and the already-existing counterattack.
Witchdoctor – staff now fires a beam that heals allies or hurts foes. Continuous exposure to the staff's beam increases healing/damaging effects.
Nimbus – now has dual-wielding shotguns for offense and recovery that are best used at close range.
Skywave – now calls down lightning to paralyze enemies to hinder their movement or leave them vulnerable to your team.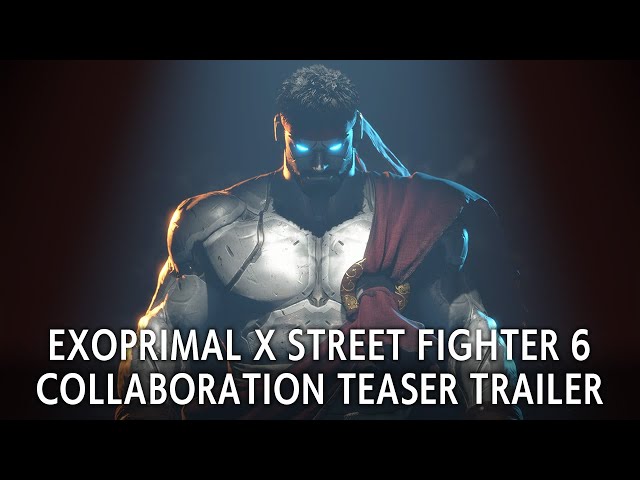 The Exoprimal roadmap continues with season 2 in the middle of October, lasting until January 2024. Here is what you can expect during that season:
The Street Fighter 6 collaboration begins during this season, which includes Exosuit skins based on Ryu and Guile.
A new final mission will be included this season.
New Ocean Platform map.
New rigs that you can buy and equip to any Exosuit.
New modules will be available to buy.
Exoprimal season 3 features
The current Exoprimal roadmap concludes with season 3, beginning in January 2024 and ending in April 2024. During this time, another Capcom game collaboration will happen, as well as a few other new additions:
The Monster Hunter collaboration event begins here. This may include a new monster, such as the dinosaur-like Anjanath, or Exosuit skins based on hunters, but nothing has been confirmed at this point.
Beta variant Exosuits will also become available, though it's unclear how many and what they'll change.
One new dinosaur variant will begin appearing in Wargames – the Neo Triceratops. Neosaur variants are tougher than the regular forms, and the Triceratops is already considered a larger dinosaur.
That is all that's included in the current Exoprimal roadmap. There's no doubt this will be updated in the future as more details emerge about each season. The good news for Exoprimal Game Pass players is that the multiplayer game will have all seasonal content available, though we do recommend you give our Exoprimal system requirements guide a glance in case you run into performance issues.