The FFXIV Fall Guys event is here, and it's surprisingly robust. What could have been a simple throwaway feature to act as a collaboration project between the two games has become one of the most robust Gold Saucer updates we've seen in Final Fantasy 14 for some time, and is offering more casual players a look into some raid-style mechanics, and all of us a surprisingly good time.
Having wondered quite how in-depth the FFXIV collaboration with Fall Guys would be, I was still pretty impressed by just how involved the event is. Upon heading to the Gold Saucer, the in-game casino for the critically acclaimed MMORPG, you're sent to a dedicated 'Blunderville' lobby area decorated in the bright, simple colors of Fall Guys.
Matches are three rounds long, culminating in the classic Fall Guys hill climb for the last eight players to vie for the elusive Victory Crown. Round one features two different gauntlets, each of which has you racing through several challenge zones, while round two gives you one of a pair of challenge minigames to complete – either racing around a loop of traps and narrow platforms to stay ahead of the competition or delivering colored balls through a series of obstacle courses before your rivals.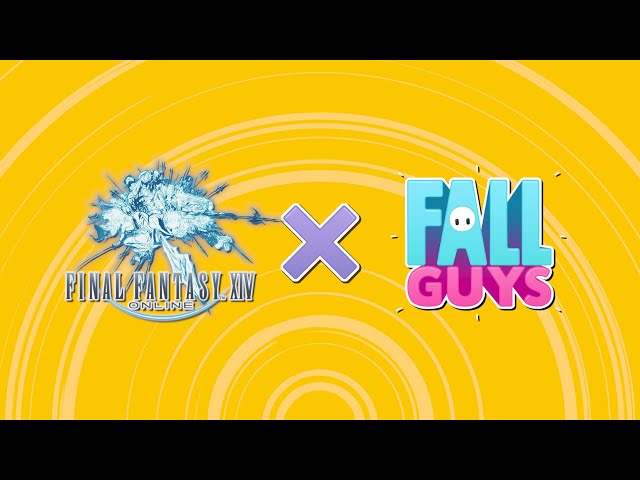 A lot of these minigames incorporate concepts that are seen in other FFXIV trials and duties, such as icy floors where any movement will cause you to slide a fixed distance in that direction, the 'forced march' that sends your character in a certain direction, and 'temporary misdirection,' where a spinning hand above your character determines the direction they'll start running when you hold any movement key.
This is a great idea, and it's something I'd love to see the Saucer used more for. Some of its existing minigames, such as 'The Slice is Right,' are a great way for players to practice fight mechanics in a fun, low-pressure setting, and letting people get to grips with these will only help them feel more comfortable with trying more advanced content. It functions as a welcome stepping stone to more advanced concepts – and there's no worry that you might be holding other players back if you fail.
On top of this, players on the FFXIV Reddit are discussing how Square Enix has taken great pains to ensure that the collaboration fits within the FFXIV lore. The Fall Guys beans are said to have inspired Gold Saucer architect Godbert Manderville to create the feature. That's right; those little beans are an official part of Final Fantasy XIV canon now.
Then there are the rewards, which include a colorful hoodie and tracksuit bottoms along with a pink bean as a pet, an emote, a mount, and plenty of other bonus goodies. Much like most of the Gold Saucer rewards, they don't require too much time playing to earn – especially if you're able to make it through a few rounds. The details even go right down to 'Fall Guys' being written in Eorzean script on the clothing.
The whole thing is an absolute triumph – the only slight downside is that it's once again reinvigorated the discussion around latency and the feeling of being 'hit' by mechanics that you're pretty sure you avoided, something that high-level raiders have been debating for a long time now. But that, to me, is simply a sign of how widely enjoyed this new mode is.
Speaking at a press event attended by PCGamesN during FFXIV Fanfest London, game director Naoki Yoshida remarked that the team is always eager for any collaborations to be made as a full crossover. "We make our own proposal and send it to the other company, and generally they get quite surprised," he explains. "They're like, 'What, you don't want to just do costumes?'"
That approach has given us several cool pieces of content in the past – including the Monster Hunter fight against a Rathalos (a project that also saw FFXIV's Behemoth arrive in Monster Hunter World) and the full-length Nier Automata alliance raid in the Shadowbringers expansion.
With how much love the FFXIV team puts into these, hopefully we get to see even more in the future – and I'm personally hoping that this particular event gives Square Enix even more ideas for how the Gold Saucer can help new players take those first steps into endgame content.
While we wait on the FFXIV Dawntrail release date, be sure to check out the best FFXIV side quests Yoshi-P wants you to play, and spruce up your FFXIV Island Sanctuary with our helpful advice to make it as beautiful and flourishing as possible.