May the 4 is the day we toast everything Star Wars, and this year, medieval brawler For Honor is getting in on the action by turning all of its swords, axes, polearms, and assorted instruments of death into lightsabers. We have to wait until the Star Wars Jedi: Fallen Order release date for Respawn's officially licensed lightsaber duelling, but For Honor's unexpected event might help tide us over.
If you jump into For Honor now, you can begin a match as usual. But as soon as you approach and lock onto an opponent, your weapon's business end will change so that its blade is made of focused energy, glowing red, blue, or green. This includes the axes and polearms featured in For Honor, and some do admittedly look a bit goofy as lightsabers.
But generally speaking, the energy-infused weapons look great, and Ubisoft has even gone so far as to replace For Honor's usual metallic clangs and thuds with the unmistakable sound effects we know from the lightsaber duels of the films and Jedi Knight videogames.
The For Honor subreddit is digging the event, posting videos, memes, and screenshots (such as the one at the top of this story) showing off the energy weapons.
Here's a video that shows the lightsaber effects in action: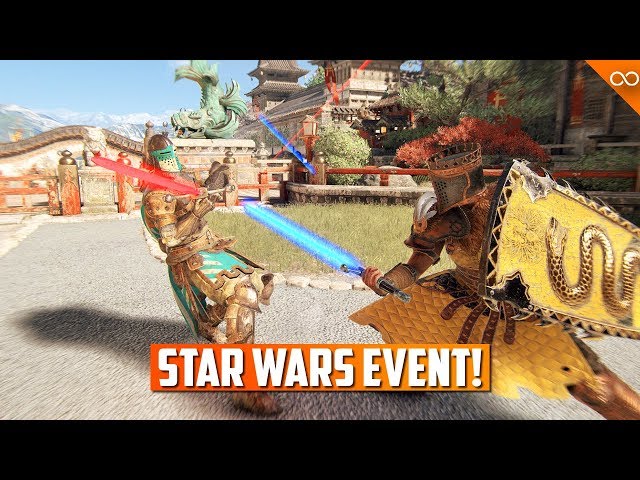 Watch for the sparks that shower off the blades when someone blocks an attack – it's surprisingly well done, particularly for an event that was completely unannounced and is almost certainly an unofficial expression of the developers' own Star Wars fandom.
There is no try: These are the best Star Wars games on PC
It also helps highlight how savage the fighting is in For Honor. Lightsaber fights in the movies have certainly gotten increasingly brutal since the first films, but they've always had a certain restraint to them. Impaling, severing, and beheading are all par for the course in For Honor, and it's slightly shocking to see lightsabers used so explicitly to do exactly what they were designed to do.
It's not clear how long the event will last in For Honor – it may only run today, or potentially for the weekend. Either way, it's a good excuse to jump back in and start using the Force. Or at least, using some force.