Want to know the Fortnite Chapter 3 release date? It'll soon be time to bid a fond farewell to Fortnite Chapter 2; eight seasons of reality-hopping drama that brought with it more exciting collaborations than ever before, and an alien infestation to investigate. The last season has seen the return of monsters via rifts from The Sideways and mysterious Cubes rolling around the island.
With the announcement of the finale to Chapter 2, 'The End' has players fight against the Cube Queen as she emerges from the pyramid she built using her purple Cube brethren. However, like previous end-of-season events, this will likely end with a countdown timer showing when the next season begins.
So what's coming after 'The End'? Will there be any dramatic changes to the island design, and will we see the continuation of the lucrative collaborations with other games, films, and brands? The details that have leaked so far indicate that this is the case, so join us as we give you the lowdown on when Fortnite Chapter 2 ends, information on when Fortnite Chapter 3 begins, and what may be coming soon to an island near you.
Fortnite Chapter 3 release date
Fortnite Chapter 3 will likely release on December 6, 2021. Previous end-of-season events conclude with a countdown screen showing how long players will have to wait until the servers go live for the new season. Chapter 2 Season 8 had a similar event which began at 9am GMT / 4am ET / 1am PT, so you can use this time as a benchmark for what to expect when that countdown appears.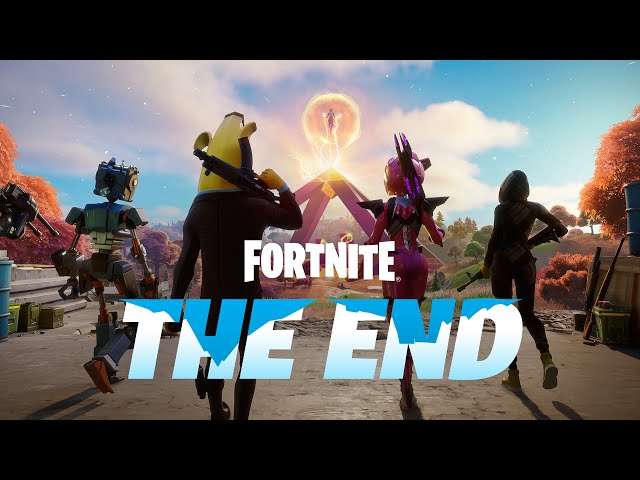 Fortnite Chapter 2 The End date
The season finale of Fortnite Chapter 2 Season 8, known as 'The End', will begin December 4 at 4pm ET / 1pm PT / 9pm GMT. Like other season finale events, we recommend that you log into the game at least 30 minutes before the event starts to guarantee your place. There are no repeats of this event once it concludes. Any player who logs into Fortnite and completes the event will unlock a unique loading screen and a wrap.

RUMOR: This *MIGHT* be our first glimpse at the Chapter 3 map!

According to u/Edmire2k on Reddit, Epic have been working on the Chapter 3 map for a while now. They have made a concept based on what they have heard & seen. pic.twitter.com/8tfMo8zKVX

— Fortnite News (@SentinelCentral) October 25, 2021
Fortnite Chapter 3 leaks
One of the most talked-about changes coming to Fortnite Chapter 3 is the new map design. While we should take any talk about the new map with a pinch of salt, the design indicates that some areas will be separated into small themed islands, branching off the main island. Fan favourite locations may return as well, including Tilted Towers and Risky Reels.
It also seems more Fortnite animals are coming as, according to Hypex, you will see seagulls flying around parts of the map. He says that "they are in one of Chapter 3's concept arts near a tropical/beach area, but [I don't know] when exactly they'll release, most likely Season 1".
According to the same sources: A Fortnite x Matrix collab (Neo & Trinity) is planned for the second half of December. pic.twitter.com/VdEkgTwyGg

— HYPEX (@HYPEX) November 18, 2021
Fortnite Chapter 3 collaborations
Fortnite is no stranger to collaborations to help promote new films with recent examples, including Free Guy, Ghostbusters: Afterlife, and Venom: Let There Be Carnage. Hypex reports that there will be a Matrix Resurrections collaboration, which wouldn't be the first time a character portrayed by Keanu Reeves appears in Fortnite.
Check out our guide to all of the Fortnite Chapter 2 Season 8 punchcard quests if you're looking to finish up before the next phase of the game.