Saturday's Fortnite battle, which wrapped up the battle royale's ninth season with a kaiju-mecha fight, was epic. The event saw 'Cattus' versus 'Doggus' fight it out in a brief but decisive battle that saw the latter emerge as the victor, impaling Cattus' skull with its sword. And yet, it doesn't look like viewer numbers really reflect the hype of the season finale – according to videogame statistics site, GitHyp, the battle was one of Fortnite's least- watched events on streaming platform Twitch.
According to the site, which tracks the most-watched games on Twitch, the Monster versus Mech showdown (which you can check out some footage of below) didn't make it into Fortnite's top ten most-viewed moments on the platform, despite it being a much-anticipated event, rivalling last year's big rocket launch, which cracked space-time.
The site says that, although the viewer count for the event on Saturday was actually about six times the regular number, and that it achieved 606k concurrent viewers, Fortnite's popularity has been "on the decline over the past year" – and the numbers weren't enough to get it into one of the top ten most-viewed Fortnite spots.
However, according to GitHyp's data, Epic Games' battle royale is still sitting in the number one slot for most-watched videogames on Twitch in 2019 so far, ahead of Riot's MOBA game League of Legends, Rockstar's Grand Theft Auto V, and some other big titles.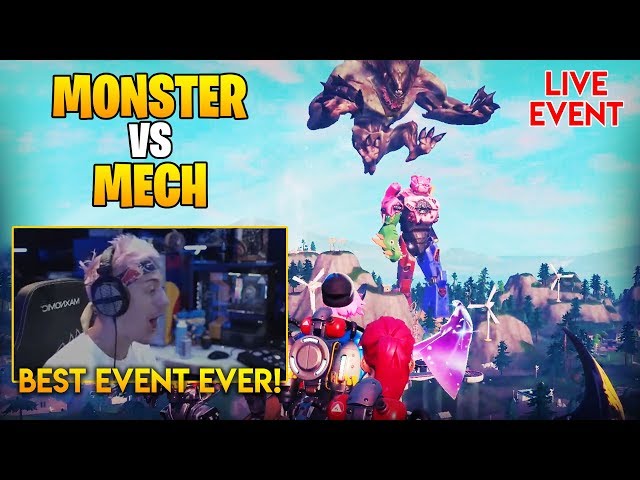 With the first-ever Fortnite World Cup finals – which will take place in New York next week – coming up, and offering a staggering $30 million prize pool, including $3 million for the winning solo player, perhaps we could be about to see some more huge viewing numbers for the game on Twitch.
If you're excited to jump in to Fortnite season ten you won't have long to wait – it's due to kick off on August 1. If you want to get an idea of what to expect, check out all the latest details on the battle royale's tenth iteration.