When is the Fortnite season 10 release date and when will season 9 end? It's an important question if you're one of the millions of Fortnite players who clock in every day to tick off daily challenges, as the Fortnite season 10 release date also heralds the end of the season 9 Battle Pass. So it's good to know how much longer you've got to progress those customisable Fortnite skins.
Of course the Fortnite season 10 release date isn't all about what's ending, and a new season promises sweeping map changes, a new storyline, and a fresh Battle Pass teeming with curious challenges and cosmetics. There are plenty of theories already about what the new season will be about.
Join us as we dig into all of this, from expected map changes to possible themes for the season 10 Battle Pass. Of course, we'll also cover that important Fortnite season 9 end date. Here are all the latest details on Fortnite season 10.
Fortnite season 10 release date
The Fortnite season 10 release date is August 1, 2019. Seeing as each new season usually arrives on Thursday, we know this is the date if we calculate it based on the number of days next to the 'season ends' ticker on the Battle Pass progression page.
This is longer than a simple ten weeks after the start of the current season, so we have got these leaked Fortnite Overtime challenges.
Think Back. 8.1.2019 pic.twitter.com/StlbA42Cwj

— Fortnite (@FortniteGame) July 28, 2019
Fortnite season 10 teasers
Now the World Cup is over, the first Fortnite season 10 teaser has arrived. And, it might herald the return of a now-archaic named area. In the teaser above we're encouraged to 'Think Back' to a location that looks a lot like Fortnite's Dusty Depot. It also confirms the Fortnite season 10 release date of August 1, 2019.
Look Forward. 8.1.2019 pic.twitter.com/NSKq5diQrN

— Fortnite (@FortniteGame) July 29, 2019
Perhaps season 10 will be just as much about the future as it is the past. While the first teaser asked us to think about the past, this second one says 'Look Forward', with a Fortnite mech on top of some kind of hill. Interestingly, the logo on the left pertains to the Visitor outfit, a reward for completing Blockbuster challenges from way back in season 4.
Twist Time. 8.1.2019 pic.twitter.com/OeEs9AAIpO

— Fortnite (@FortniteGame) July 30, 2019
If we were ever in doubt that the upcoming tenth season would have a temporal element, this third Fortnite teaser made sure of it. Plenty of fans are clamouring for original locations such as Dusty Depot but, instead, will we see a mix of old and new?
Zero In. 8.1.2019 pic.twitter.com/c8C1VVIVx2

— Fortnite (@FortniteGame) July 31, 2019
So, obviously the biggest takeaway from this final season 10 teaser is, Jonesy's had a haircut? He certainly scrubs up well following his time drawing conspiracy cartoons. We jest, of course: the video hint shows a weird, ethereal explosion blasting over Loot Lake with our favourite blonde trying to make an escape. The leaked, full version was quickly taken down, but you can see the Fortnite season 10 trailer, if you're not bothered about spoilers.
fortnite season 10 news
The Fortnite: The Final Showdown brought the ninth season – almost – to its conclusion with a stupendous bang as the epic Fortnite Cattus vs Doggus battle took place. We had an idea this was going to happen from the full Fortnite Fortbytes image revealed to players have now collected all the possible puzzle pieces. Jonesy's apocalyptic predictions came true, and the skull of the enormous defeated feline lies impaled on the map for all to see.
Stranger Things portals in Fortnite cropped up in the shopping centre of Mega Mall, too. These doors to the terrifying 'Upside Down' appeared ahead of the third season of the Netflix show, but it remains to be seen whether this, and the terrifying Fortnite Stranger Things skins – is something that will be temporary or something that will play a big role in Fortnite season 10. With this and the robot in mind, could the tenth phase of Fortnite have an 80s theme?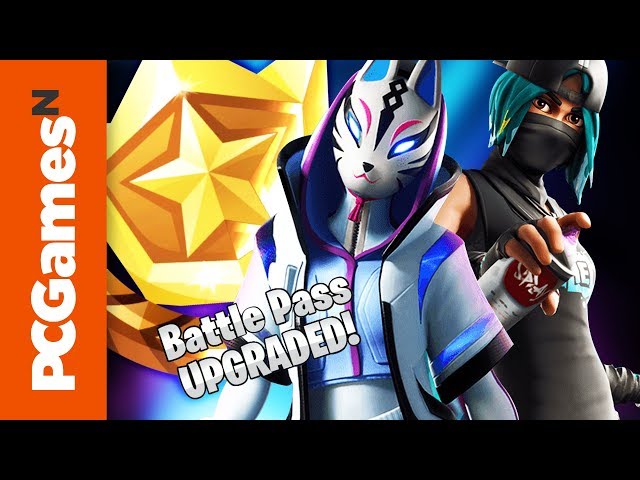 Fortnite season 10 battle pass
This format hasn't changed much since the Battle Pass was first introduced, so we're fairly certain we know what's coming with the Fortnite season 10 Battle Pass. First off, you'll need a total of 950 Fortnite V-Bucks to purchase the season 10 battle pass, this will unlock the premium tier of rewards that you'll need to progress through in order to earn every goodie. There will be new skins, emotes, stickers, harvesting tools, gliders, back blings, and much, much more inside. You can also expect a season 10 tier 100 Battle Pass skin with its own set of challenges that only the dedicated few will stand a chance of completing.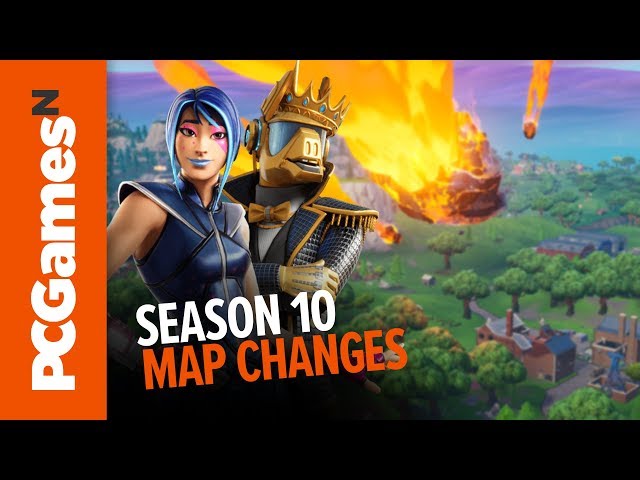 Fortnite season 10 map changes and theories
It's very tricky to guess what exactly might be happening to Fortnite's map in season 10, but there are a few likely changes.
With season 9 bringing us to the future we'd love to see the season 10 map rewind the clock and deliver us to the Jurassic era. Even if this only applies to a portion of the map it would be a superb addition. Plus, who doesn't want tiny dinosaurs as pets? We've already seen plenty of dinosaur bones dug up over the months, and there are a smattering of banners featuring archaeological tools and dino skulls. Previously there have been clues for future seasons hidden in plain sight in each battle pass, so there's a tiny bit of promise to this theory.
And there you have it: everything we currently know about Fortnite season 10, plus plenty we don't. Every day there are new challenges cropping up and minor tweaks to the map, so we'll keep our eyes peeled for more clues and update you as the current season continues.