Where are the Fortnite Singularity styles and masks? The 90th Fortbyte has gone live in Epic's battle royale behemoth, and that means something very important: if you've put the hard graft in completing all the Fortnite Fortbytes locations challenges, congrats, you've just earned yourself one of the best Fortnite skins.
This is the Fortnite Singularity skin, and you unlock it after grabbing yourself 90 of the hundred total Fortbytes that have been going live in the game every day. In even better news, you can upgrade that into Fortnite Singularity stage 2 and stage 3 by finding the remaining Fortbytes: the first you get after grabbing 95 Fortbytes, the other is for getting all 100. But we're looking for something else: the many different Fortnite Singularity masks and helmets that are available across the map.
There are five different Singularity styles in Fortnite you can add to the base one, and they're pretty much located in the middle of nowhere. You'll need to possess the skin in order to pick them up, but you can still find them out in the world. But, given their elusive spots, we're here to show you where all the Fortnite Singularity helmets can be found. So, without further ado, let's get started with ensuring your skin stands out from everybody else's.
All Fortnite Singularity styles locations
From the Pizza Pit mask to the Durrr! Burger one, you've got a few different options when it comes to updating your vanilla Fortnite Singularity skin. Below you can find a map with each of the spots on them, and then text descriptions of each individual location further down. If you get stuck, join the descriptions up with the map markers below.
Drift: Between Polar Peaks and the frozen lake is where you can find the Drift variant of this special skin. At the bottom of a steep cliff face, there is a table – head there. The helmet you're looking for is near this table and a wooden crate overlooking the frozen lake.
Durrr!: In Neo Tilted, the eagle-eyed among you may have spotted the Singularity statue. On the east side of town, climb up to the platform overlooking the pool and the statue – you can't miss the Durrr! version of Singularity on the floor.
Pizza: You're not going to have Durrr! Without Pizza Pit. Keep this rivalry raging by heading to Loot Lake. On a rocky ledge on the northern side of the mysterious vault is where you can add this style to your collection.
Cuddle: For this Fortnite Singularity mask, head to Pressure Plant. There's a platform on its northern side which looks out over the gargantuan robot that's being built in the now-dormant volcano. This collectable piece is on that platform.
Rex: This is the toughest one to get: in between four named locations – Dusty Divot, Salty Springs, Shifty Shafts, and Neo Tilted – is a trio of trees. This Fortnite Singularity helmet is lying next to the southwestern tree, close to a wooden shack.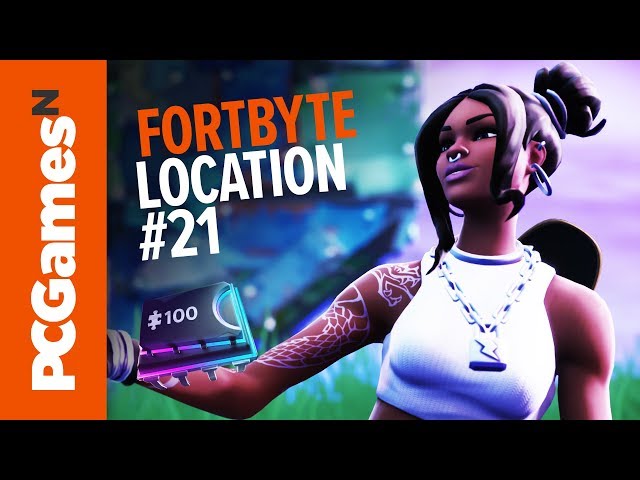 And there you have it, that's how to get all Fortnite Singularity masks. Now, after all your hard work finding each and every Fortbyte, you finally have a unique reward to show for it.
Singularity pringles:
Fortnite season 10 release date
Fortnite Fortbyte 29
Fortnite Fortbyte 38
Once you've caught up with Fortnite Fortbyte 23, too, you can enjoy showing your favourite off to your friends.
We'll see you next time for your next battle royale guide soon.