Fortnite Star Wars is back, as Epic's battle royale game reintroduces lightsabers alongside plenty of cosmetic skins like Anakin Skywalker, Darth Maul, and Padme, alongside the ability to learn different force abilities during matches as well. There's a lot to break down with this new Fortnite update, so get comfy because we've got it all for you below.
As mentioned, the most significant addition to the Fortnite Star Wars update is undoubtedly the return of lightsabers You'll want a bunch of Fortnite V-bucks for all the skins and cosmetics sets available.
There is a selection of Fortnite Star Wars lightsabers in blue, green, red, and purple, with Darth Vader, Rey, Luke, Kylo Ren, Mace Windu, and Obi-Wan all getting their iconic lightsabers in the game with this update. Star Wars blasters DC-15 and E-11 have also returned with this update as well.
The Fortnite map is also changing, as multiple rift locations have been added where you can train with force-wielders for force powers during a match. Darth Maul will teach the force throw, Obi-Wan will teach the force push, and Anakin Skywalker will teach the force pull. These aren't the only force powers either, as lightning, lift, jump, and more are available on the island, too.
The Fortnite Star Wars event will also have a 'Find the Force' mini-pass of sorts, featuring multiple clone trooper Fortnite skins and Darth Maul. However, it's worth checking the Fortnite store as well, as some of these skins may be purchasable on their own outside of the 1,000 V-Bucks Galactic Reputation reward track. Remember, you have both the free and premium event passes, which are available until May 23.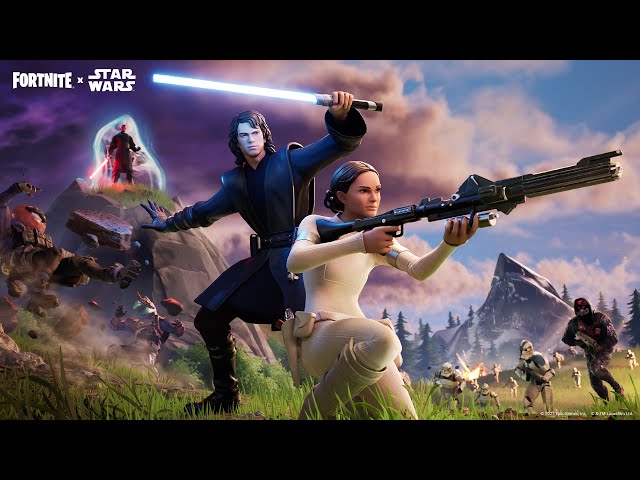 Fortnite Star Wars update content
If you want a quick rundown of everything in the new Fortnite Star Wars update, we've got it for you below.
Anakin Skywalker cosmetic set
Return of lightsabers
Force powers – push, pull, jump, lightning
DC-15 and E-11 blasters added as guns
Fortnite Star Wars Find the Force event pass – includes Clone Troopers and Darth Maul
If you're jumping back into the island after some time away, trying Fortnite for the first time, or just feel you need a refresher, we've got all the Fortnite NPC locations broken down for you, alongside some more general Fortnite tips to help you get that win.