Galactic Civilizations IV has arrived and is ready to take space strategy games by storm. The fourth entry in this classic series is better than ever with fresh mechanics, a grander sense of scale, and a concerted push to make everything more approachable for a new generation of galactic conquerors.
There's nothing stopping you from buying Galactic Civilizations IV right now, but if you're still on the fence please allow us to take you on a whistle-stop tour of the 4X game and what it can offer fans of not only past entries, but the genre as a whole.
One of the first things you'll notice is how well the game manages to speak to you via its visuals. With a minimalistic UI, the galaxy is put front and centre, with key information along the top of the screen or attached to important game elements on the map. The various management systems – from technology, to the robust ship designer, to government policies – are never more than a click away. This cuts down on busywork and keeps you engaged in the turn-to-turn action as you guide your chosen civilization to victory. Join us as we round up the top five reasons to get excited about Galactic Civilizations IV.
A crowded galaxy
Galactic Civilizations IV is launching with a record number of civilizations for the series, and it includes many new faces. The Mimot Brotherhood may be cute, but their numbers will overwhelm you. The Festron Hunt, meanwhile, want to feast on the galaxy, and The Navigators are here to lead the way in a new age of exploration. There are other new civilizations as well, and they're being joined by series favourites like the evil Drengin, and the stoic Arcean Republic. There are even two Terran factions now.
It's not just playable civilizations either; Galactic Civilizations IV brings new minor factions to the galactic stage. These one-planet civs can become useful allies and sources of support, provided you put in the work to keep them on your side. If they prove more trouble than they're worth, you can always bring them into the fold the good ol' fashioned way: conquering them to prevent any rivals from gaining favour.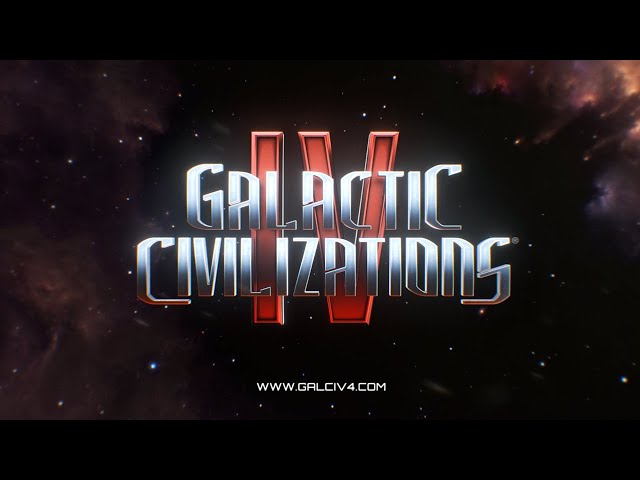 A new age of war
A new cinematic battle viewer lets you watch space battles play out in real time and a suite of campaign-level commands empowers you to launch missile barrages or repair damage before you even come into contact with the enemy.
All of this comes together to create a more engaging strategic layer as you hunt enemy fleets out in the darkness of space or lead glorious invasions inside enemy territory. While taking over the big core worlds still requires you to unlock certain technologies, conquering the smaller colonies is relatively quick, but still requires plenty of tactics and planning. This has the added benefit of keeping the political landscape dynamic, as minor skirmishes and border wars flare up whenever civilizations come into contact with each other.
New sectors to conquer
In previous Galactic Civilizations games you played on a single campaign map that could be scaled up or down depending on how complex and long you wanted the game to be. This could, in theory, represent the whole galaxy or just a small sector, depending on where your head-canon was at. For Galactic Civilizations IV, Stardock is giving players the whole galaxy to conquer for real.
You'll start on a map of a comparable size to what you would have had in past games, but with fewer civilizations in your local sector. Once you've unlocked the right technology, you'll be able to send probes out to other sectors, which are new map spaces connected via a subspace stream. If you can control the access point, you'll have a monopoly that will give you exclusive ingress into the rest of the galaxy. Of course, this means you'll also be the first-and-only line of defence if someone from the other side decides they want to come and settle in your territory.
Masters of the universe
Like many turn-based strategy games, Galactic Civilizations IV has a variety of routes to victory, but the fourth game has added a new way to win: prestige. Everything you do in a game earns you a little bit of prestige, and the goal is to fill your prestige meter to claim the ultimate victory.
What will really tip you over the edge, though, are the new Galactic Achievements. These are essentially challenges that can range from building a special monument, to telling every civ to come and attack you all at once (like some kind of galactic-level 'come at me, bro' throwdown). Many challenges will come with prerequisites before you can tackle them, but when you do complete a Galactic Achievement you get a big chunk of prestige points to propel you further towards your goal. The more you can complete, the more likely you are to win.
There are also some bespoke challenges as well which tie into the setting's lore and history, in case you're looking for some more directed narrative paths to follow.
Power to the people
When playing strategy games like Civilization, it's easy to forget your empire is full of people/creatures/sentient toasters who will have their own thoughts and feelings on current events. Galactic Civilizations IV brings its population to life with 'citizens' – abstract representations of groups of people, with their own abilities and preferences, whose happiness is just as important as the happiness of their respective planet.
Galactic Civilizations IV has a new ideology mechanic that will allow you to take your empire down the path you choose, which can unlock new abilities and functionality across other areas of the game. Your citizens are, by and large, going to follow your empire's ideology, but there are always troublemakers who may need to be put back in their place. Also, if you try to take your empire down a different ideological path without proper thought, you're bound to meet some resistance.
The citizen mechanics also manifest in other areas of the game. Citizens from other civilizations and empires can migrate within your borders, and the citizens of captured planets will need managing and integrating into your society. Just be careful if you let a Xeloxi come to live on your planet – their pastime is basically just crime. Like, lots of crime.
Galactic Civilizations IV is available to buy now, and this is only the beginning. As robust as the feature set is at launch, Stardock has many exciting plans for the future and the studio has already shown how it can listen to its community in order to make sure the game is living its best life. You don't want to miss out on this one.