The Genshin Impact Summer Festival is going worldwide in July, as developer HoYoverse brings the all-conquering world of its beloved anime game to multiple countries across America and Europe. With three Genshin Impact Summer Festival dates set, you'll want to clear your calendar now if you'd like to attend. There's also free Primogems and other prizes up for grabs if you share the event with friends, so don't miss out.
The Summer Festival promises to be the ultimate destination for fans of Genshin Impact, a place where you can truly immerse yourself in the world of Teyvat with fellow players and maybe even meet some cool, like-minded people. There will be stage shows, games, food, fan art showcases, and more activities – all with a Genshin theme, of course.
A preview of the visitor brochure for the first weekend in Paris has been sent to PCGamesN (written in French, naturally) that teases the likes of card games, guess the music, games of chance, culinary delicacies, a creative space, a souvenir shop, and even a summer quiz where the biggest Genshin Impact lovers will be invited to take on one another in an on-stage test of their game knowledge.
There are special events planned for each individual weekend, too. If you're able to head to the weekend in Paris, you'll be able to take part in music workshops run by Yamaha Music Europe where you can learn to play some of your favorite Genshin Impact music from professional musicians. Make the trip to Berlin, meanwhile, and you'll bear witness to an 'evening extravaganza' with firework displays and more.
It all promises to be something rather special – I'm sure there will be plenty of fans who take the opportunity to turn up in spectacular cosplays of all the new Genshin Impact characters. Perhaps you'll be one of them? If you're looking to visit, full details are below.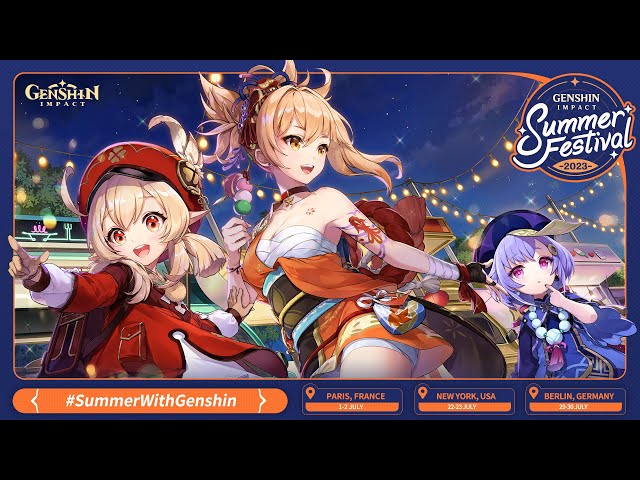 Genshin Impact Summer Festival 2023 dates and locations
Here are all the current dates for the Genshin Impact Summer Festival:
Saturday July 1 – Sunday July 2, 2023 in Paris: Esplanade de la Bibliothèque François-Mitterrand, Quai François Mauriac, 75706 Paris
Saturday July 22 – Sunday July 23, 2023 in New York: A famous landmark in New York City
Saturday July 29 – Sunday July 30, 2023 in Berlin: Revier Südost Schnellerstraße 137, 12439 Berlin
You can also share the event with your friends now from the sign-up page to earn prize draws each day, with free Primogems, Hero's Wit, Mora, and more up for grabs alongside Amazon gift cards.
Whether you're making the trip or not, you won't want to miss out on all the latest Genshin Impact codes for free Primogems and more. We've also got our latest Genshin Impact tier list, in case you can't decide who to pull for next.