Following Gods & Monsters' reveal at this year's Ubisoft E3 conference, we've started to build up a pretty good idea of what the storybook adventure will hold. You'll play as customisable hero Fenyx, take on some of Ancient Greek mythology's most ferocious foes – Typhon, Hydras, and Gorgons – and your adventure will even be narrated by epic poet Homer himself. Now, we've got some cool details on how the game's combat will work.
A blog post on developer Ubisoft's website says that the combat is "over-the-top" with "speed and verticality" playing a big role in Fenyx's method of taking on Typhon and the beasts threatening the Isle of the Blessed. The hero will be able to leap "straight at flying harpies and smack[…] them out of the sky with midair slash combos." If you need to get out of a scrape, you can jump off a cliff and summon a "fiery phoenix" to hang onto, using it to glide down to an open plain for safety. That sounds a little reminiscent of the glider in The Legend of Zelda: Breath of the Wild – and also pretty cool.
Fenyx will also have a "range of special abilities that come in handy both in and out of fights, including a dash, a double jump, a whirlwind slash, a chameleon stealth ability, and a big ol' kick that can send enemies flying." Sending enemies flying sounds pretty exciting – and impressive, considering Fenyx's relatively small size compared to the harpy that pounces in the E3 trailer (see for yourself below).
It sounds like these abilities will pack a punch: the game's creative director Jonathan Dumont says in the post "when you're fighting and trigger your abilities, you're going to wreck the enemies you're facing, and free them from the corruption they're under". He adds "you can expect a fast-paced type of combat that takes place on the ground and the air."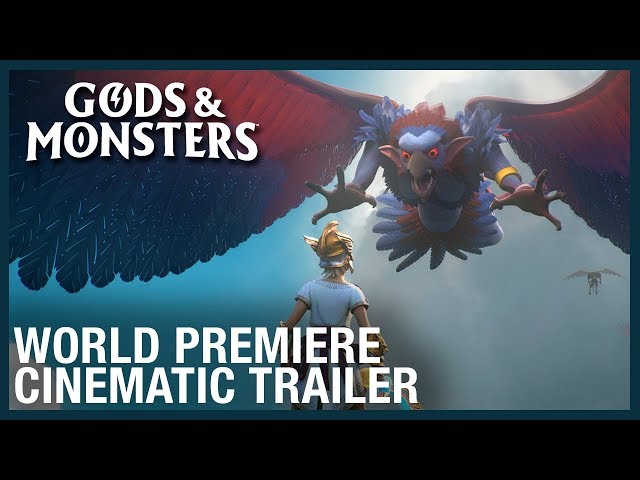 A pretty juicy example involves one of Greek mythology's most iconic monsters – the cyclops. "If you're fighting a cyclops, you may have to double jump to reach his head and hit him in the eye to blind him, so then you can fight him on the ground", Dumont explains.
These won't be without risks, however – Fenyx's abilities, plus attacking, jumping, and some other acrobatics, will drain your stamina bar. Run out mid-climb – you could fall and die.
Adventure away: Check out the best adventure games on PC
Excited to get stuck into Gods & Monsters' "over-the-top" combat? It will release February 25, 2020. You'll just have to hold your (Trojan) horses until then.