The GTA Online weekly update for November 16, 2023 is upon us, and we're bringing you all the key details ahead of the official Rockstar Games patch notes. It's time to jump back into the game's biggest and best GTA 5 heist, as the Grand Theft Auto and Red Dead Redemption 2 developer challenges you to earn as much money as possible from the Doomsday Scenario. There's also the return of peyote plants and the ongoing Sprunk and eCola challenge, along with plenty of bonus rewards and discounts, so read on for the full details.
With the GTA 6 trailer imminent, we're all thinking about one of the biggest videogame series again, and that means it's time to get back into GTA 5 and break out some heists with our pals. Taking on its climactic scenarios in multiplayer is some of the most fun I've had, enough to elevate the Rockstar classic to the ranks of the best co-op games on PC, and now it's time to return to one of the most explosive scenarios.
"This is the apocalypse. The Doomsday Scenario. Mushroom clouds! Fallout!" Introduced in December 2017 (has it really been six years already?) the GTA Online Doomsday Heist feels like the real climax of Rockstar's over-the-top mission design. Jetpacks, flying cars, missile launchers, jets, armored trucks, secret military bases, an AI assistant – you name it, it's there.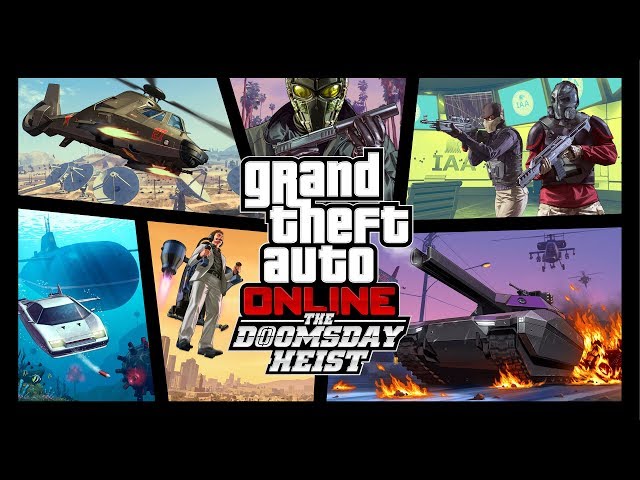 Rockstar gives players one week to earn a collective $100 billion from its final mission – The Doomsday Scenario itself. While that's certainly a lofty goal, it's traditionally been one of the highest-earning GTA 5 missions, and there's double payouts on the go for both that concluding mission and all the Doomsday Heist setup tasks, meaning it should be a pretty achievable goal if everyone pitches in.
Fancy jumping into some of the classic heists instead? You can do so without any setup costs this week. There's also seven new community-created jobs now live in Rockstar's hand-picked Community Series playlist, and they're offering triple rewards. Alternatively, peyote plants have returned to town, allowing you to break up the action with a wild drug trip by finding them in numerous locations around the map.
The Dinka Kanjo SJ is your GTA Online podium car for the week. That means you can snag the top-notch two-door coupé, seemingly inspired by the Honda Civic EJ, without dropping that massive $1,370,000 price tag if you get lucky at the Diamond Casino's prize wheel.
The GTA Online prize ride for November 16 is the Karin 190z. A classic sports car reminiscent of iconic Datsuns and Nissans or the Toyota 2000 GT, you'd normally be looking at $900,000 to get this virtual version. Place top five in an LS Car Meet race for just two days running, however, and you can claim your own one for free.
There's some big discounts up for grabs this week too. With half off apartments and facilities, it's a great time to invest in property if you've been saving up, or looking to spend some of that hard-earned cash from running all those Doomsday Scenario heists. The full details for the November 16 GTA Online update are below.
GTA Online weekly update – November 16 to November 23, 2023
Here's everything included in the GTA Online update for Thursday November 9 to Thursday November 16, 2023:
Events
Sprunk and eCola challenge: Drink a collective 100 million cans of Sprunk and eCola combined by Wednesday November 29.

Reward: Themed license plates, bodysuit, and Mammoth F-160 Raiju livery.

The Doomsday Scenario challenge: Earn a collective $100 billion from The Doomsday Scenario by Wednesday November 22.

Reward: Special livery for Pegassi Zentorno.

Peyote plants can be found across the world.
Dealership Cars
Luxury Autos
Emperor ETR1
Übermacht Revolter
Simeon's Auto Shop
Declassi Vigero ZX
Grotti Furia
Pegassi Tezeract
Progen Emerus
Vapid Clique Wagon
Free Bonuses
Drinks at the Diamond Casino
Setup costs for the original heist missions
GTA Online bonus rewards
3x GTA$ and RP rewards from new Community Series events
2x GTA$ and RP rewards from The Doomsday Scenario
2x GTA$ and RP rewards from Doomsday Heist prep missions
GTA Online discounts
50% off
Apartments
Facilities and upgrades
Albany Hermes
Emperor ETR1
Pegassi Zentorno
Übermacht Revolter
40% off
Progen Emerus
Vapid Clique Wagon
25% off
The GTA 6 release date might seem a fair way off still, but there's always the best GTA 5 mods to keep things feeling fresh and new. We've also done the work checking all GTA 5 cheats working in 2023, so you can make best use of them.
For the latest on all things Grand Theft Auto 6 and much more, follow us on Google News for daily PC games news, reviews, and guides.