The GTA Online weekly update for October 19-26 is here, and Rockstar Games brings some new free gifts for you to grab as the Halloween event festivities continue. Along with its usual round of free cars, bonus rewards, and discounts, there's a new rotation of spooky event modes to play, and the Ghostbusters themed event is still live if you're yet to grab Grand Theft Auto 5's take on the Ecto-1. If you've been disappointed by the Red Dead Redemption 2 offerings this season, at least GTA 5 has got you covered. We've got all the details for the latest update, so read on for more.
Today's GTA Online update adds a number of new community series jobs to the rotation, curated by Rockstar from the best GTA 5 modes that players have designed. Numerous Halloween events are ongoing in the multiplayer game this week, including the return of Possessed Animals and the continued 'Ghosts Exposed' challenge that rewards you with the Ghostbusters-inspired livery for the Albany Brigham. Just remember not to cross the streams if you want to make it to the GTA 6 release date.
There are two free gifts available this week. You'll nab the Blue Vintage Werewolf Mask simply as a login bonus for playing GTA Online at any point this week, while successfully delivering event cargo from a Business Battle will net you the Teal Vintage Zombie Mask. Both come equipped with some fun sound effects, too, so if you fancy a bit of creepy GTA RP to get in the Halloween mood then don't miss out!
If you're into slightly weirder modes of transport, you won't want to miss the GTA Online podium car this week – the Rune Zhaba is a huge all-terrain vehicle with giant, monster truck style wheels, taking its inspiration from the real-live Sherp ATV. It'd normally cost you a whopping $2,400,000 of your in-game cash, but get lucky spinning the Diamond Casino's prize wheel this week and it's all yours.
Also a little different is the GTA Online prize ride for the week. It's not too often that we see free bikes in GTA 5 up for grabs, so the Dinka Vindicator is a nice change.You'd typically expect to pay $630,000 in game for one of these, which is nothing to sniff at, so the ability to pick one up by placing top five in LS Car Meet races for just two days running is something you'll definitely want to consider taking advantage of.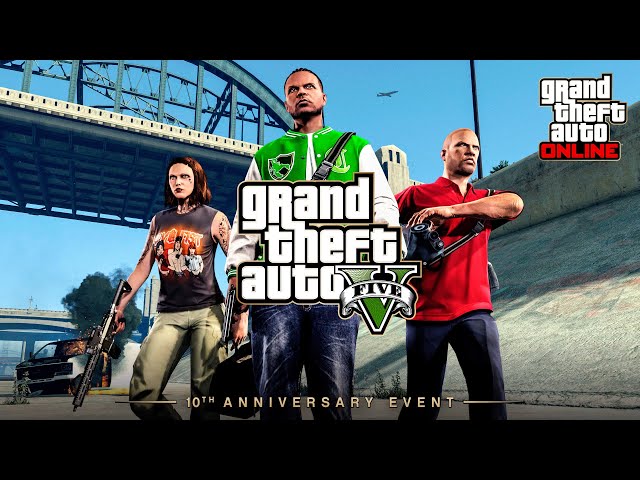 GTA Online weekly update – October 19 to 26, 2023
Dealership Cars
Luxury Autos
Lampadati Cinquemila
Lampadati Komoda
Simeon's Auto Shop
Lampadati Felon
Lampadati Felon GT
Lampadati Furore GT
Lampadati Michelli GT
Lampadati Pigalle
Free Gifts
GTA Online podium car: Rune Zhaba
GTA Online prize ride: Dinka Vindicator
Login reward: Blue Vintage Werewolf Mask
Deliver event cargo from a Business Battle: Teal Vintage Zombie Mask
GTA Online bonus rewards
3x GTA$ and RP rewards from new Community Series jobs
2x GTA$ and RP rewards from Halloween adversary modes
2x GTA$ and RP rewards from Halloween deathmatches
2x GTA$ rewards fromAcid Lab Sell Missions
GTA Online discounts
40% off
Grotti Bestia GTS
Lampadati Furore GT
Lampadati Michelli GT
Obey 8F Drafter
30% off
MTL Brickade 6×6
Acid Lab equipment upgrades
Lampadati Cinquemila
Mk II weapon upgrade
All ammunition
20% off
Buckingham Weaponized Conada
That's all for this week in GTA Online. Meanwhile, if you're passing the wait for GTA 6, we've got all GTA 5 cheats to toy around with in single-player, or go one step further with the best GTA 5 mods and see what awesome concepts players have come up with.