Half-Life is undoubtedly one of the most pivotal video games to ever release, redefining the sci-fi genre and shooters alike. Valve's debut FPS smashed records left and right, continuing to dominate as one of the developer's most popular games decades later. As the sci-fi shooter celebrates its 25th birthday, Valve is releasing a brand-new anniversary update with a mind-boggling amount of fresh content for fans. If you haven't played in a while, or ever, this is your call to.
Half-Life maintains a perfect 10/10 rating on Steam over two decades after its initial 1998 release, with thousands of overwhelmingly positive reviews and to this date, countless active players. The FPS game is more than an icon among the PC community, prompting various mods and fan spin-offs throughout the years. This weekend marks the shooter's 25th anniversary, and Valve is celebrating its debut game's birthday with a massive new update.
The update introduces Uplink, Valve's 1999 Half-Life demo, to the main game's download. "Originally released as a CD exclusive for magazines and hardware manufacturers," Valve writes, "this mini-campaign was built by the Half-Life team right after the game went gold." The demo experience, which was many players' first with Half-Life, now comes alongside the main game.
Valve's official level designers have crafted four new multiplayer maps, also coming with the anniversary update. Contamination, Pool Party, Disposal, and Rocket Frenzy each feature different parts of Black Mesa, from a contaminated waste facility to its decaying orbital satellite launch facility. The developer has rebalanced multiplayer in general, making now a better time than ever to explore fresh maps with friends.
The entire game now looks just like it did in 1998, but on a modern monitor. Valve's new update brings lighting fixes, including GL Overbright support, as well as a widescreen field of view and the option to disable texture smoothing on the GL renderer. Linux players will be happy to learn that Half-Life now comes with animated water, crisp colors, and unfiltered textures on their operating system.
If you're a Steam Deck stan like I am, then you may find that the update's best news is its official verified status. That's right, Valve has finally tested and reworked its game on its own handheld system so that it runs perfectly. This also means better controller and Steam Networking, too. Valve says you can invite your friends or join games "instantly with no fuss."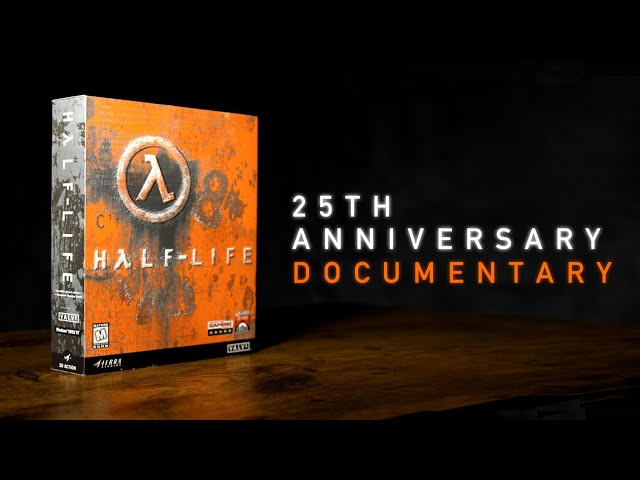 Players with higher screen resolutions get to experience the game in crispy 4k now, as Valve's update reworks the "entire UI to scale at larger screen sizes." The new and improved resolution accompanies Half-Life's return of its beloved original main menu artwork, music, and the iconic intro video. The game now feels like a nostalgic throwback to its 1998 edition, but better.
Half-Life is free to keep for a limited time on Steam, too, making this the perfect time to hop into the midst of Black Mesa's chaos and experience the PC game that will continue to define decades to come. With new content, new old content, and everything in between, Valve has breathed life into its critically acclaimed shooter once more.
Half-Life patch notes – 25th anniversary update – Friday, November 17, 2023
You can view the 25th-anniversary update's full details, including images of the newly added content, on Half-Life's official website. Check below for a convenient bullet-point list of the update's bigger highlights, from its new multiplayer content to its performance improvements.
New content
Now Verified on the Steam Deck (and our native Linux runtime has been set as the default).
Half-Life: Uplink — the original standalone Half-Life demo — has been added to the game, and is accessible through the "New Game" menu.
Added four all-new Half-Life Deathmatch maps: contamination, pool_party, disposal, and rocket_frenzy
Added three old Half-Life Deathmatch maps formerly available only on the "Half-Life: Further Data" CD: doublecross, rust_mill, xen_dm.
Added Ivan the Space Biker, Prototype Barney, Skeleton, and Too Much Coffee Man as player models to Half-Life Deathmatch.
Added dozens of new sprays formerly available only on the "Half-Life: Further Data" CD.
Added support for Steam Networking, allowing easy multiplayer via Steam's Join Game and Invite features.
Added support for Steam Friends Rich Presence, allowing your friends to follow your journey through Black Mesa.
Nostalgia
Brought back the original Valve Intro video. It can be skipped with the "-novid" launch command.
Updated main menu to a design inspired by the game's original 1998 main menu.
Changed the default models to the original (non-HD) models.
Gameplay changes
Improved physics for throwing grenades.
Improved randomness for initial spawn points in multiplayer.
Improved satchel charge controls: primary fire now always throws a new satchel, and secondary fire always detonates.
UI changes
The main menu background and buttons have been reskinned, and now scale based on screen resolution without stretching, supporting background image layouts up to 3840×1600.
In-game HUD now uses double or triple-sized sprites when playing at higher resolutions.
UI dialogs and in-game fonts now scale to improve readability at high-screen resolutions.
In-Game HUD HEV suit display has been shifted to the left of the screen, and no longer changes position at larger screen resolutions.
Added an "Enable texture filtering" setting.
Added an "Allow widescreen Field of View" setting to correct non-anamorphic FOVs, for widescreen and ultrawide displays.
Re-organized all the Settings screens to improve legibility and support controller navigation.
Updated the Pause menu to be aware of the current gameplay mode.
The default server name and multiplayer player name are now based on the player's Steam Persona.
The Steam platform menu has been removed, now that all its features are in Steam itself.
Removed the now very unnecessary "Low video quality. Helps with slower video cards." setting.
Input changes
Added "Lower Input Latency" option: Synchronizes the CPU and GPU to reduce the time between input and display output.
These highlights are just the tip of the update's iceberg, with other new balancing changes, improvements for mod makers, and more. Valve also states that it has archived Half-Life's previous build "to a publicly visible Beta branch." The developer does now consider the recent anniversary edition to be the "definitive version" and the one it'll "continue to support going forward."
While you finish redownloading the retro masterpiece on Steam, have a browse through our roundup of the other best PC games you can't miss out on. Alternatively, check out a few of our most highly anticipated upcoming PC games for something new to excite yourself with. The future of gaming looks just as bright as its past.
Searching for more Half-Life content, or anything else within Valve's impressive world of video games? Make sure to follow us on Google News for daily PC gaming news, guides, and reviews.