A Halo Infinite battle royale mode has been heavily rumored for a very long time, as since 2021 word has gotten around that Halo support studio Certain Affinity was working on a BR mode codenamed Tatanka, but there's been not one bit of official word on the topic. While that hasn't changed, the new campaign AI toolkit for Forge has helped one group of fans make a battle royale of their own, and you can play it right now.
Featuring AI boss fights, dropping from a Pelican, weapon pick-ups, and procedurally generated play spaces, The Forge Falcons decided to make their own battle royale mode for the FPS game while waiting for official word on 343's version. The Halo Infinite mode is free to download and play within the game and has been released a little early for us all to enjoy.
Update 2.0 is scheduled for the Halo Infinite battle royale, and The Forge Falcons have thanked the community for already showing so much support for the project. "We cannot thank this amazing community enough for making our Halo Infinite Battle Royale, Inheritor Battle Royale the most successful launch of an experience, we've ever done."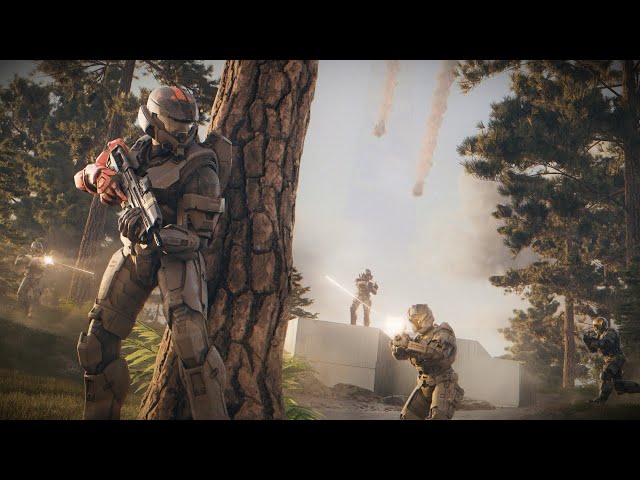 The well-known cornerstones of battle royale games are also present in the Halo Infinite mode, as there's a storm that can damage you, closing play areas, buy stations, perks for damage and health, and a whole lot more.
What sets this apart from other battle royales though is both the procedurally generated terrain and Covenant AI that can drop in and attack all players. There's a little bit of the Halo 5 Warzone game mode in The Forge Falcons' battle royale mode, but this feels like a natural way to build a battle royale in Halo, by leveraging what the series has to offer.
If I hadn't made it clear already, I'm completely floored by the work that's gone into this. 343 has built such an excellent sandbox and given players so many tools that the creative options feel endless, and this is just one result. The fact that the mode is also going to get updates over time that improve the gameplay, mechanics, and visuals is also great, as I'm sure the battle royale experience will only improve from where it is right now.
You can find both the map and mode pages to download here ahead of jumping in yourself too, with the Forge Falcons Discord server also hosting matches.
You might be jumping into the latest Halo for the first time after hearing about the BR mode, and if so we've got a thorough breakdown of all the Halo Infinite system requirements for you, alongside a Halo Infinite bosses guide if you're diving into the campaign instead.