With the tons of announcements from BlizzCon came a load of new Hearthstone content. Not only are we getting Descent of Dragons, the next and final update in the trilogy surrounding the Leagues of E.V.I.L and Explorers, but a new Hearthstone mode was revealed – Hearthstone Battlegrounds.
Auto-chess games have been a massive success and some of the biggest MMOs around have delved into the genre. You can look at Teamfight Tactics, Dota Underlords, and the original Auto Chess and see that characters separate from their lore and fit nicely into this strategy format. Hearthstone is no different, and Blizzard is using the well-established card game to dip their toes into yet another genre.
If you want to learn the basics, check out our guide on how to play Hearthstone Battlegrounds ahead of the release date. Speaking of the Hearthstone Battlegrounds release date…
Hearthstone Battlegrounds release date
When does Hearthstone Battlegrounds come out? The Hearthstone Battlegrounds release date is November 12, 2019 in open beta. This is ahead of the next Hearthstone expansion, Descent of Dragons.
For all Blizzcon attendees, Blizzcon virtual ticket holders, or for players who have purchased the Descent of Dragons pre-purchase bundle, an early access phase will be available from November 5 to November 12, 2019.
Hearthstone Battlegrounds release times
Sure, so when exactly can you play Blizzard's new autobattler? Provided plans haven't changed since Blizzard revealed the new game, then here are the Hearthstone Battlegrounds release times:
10:00 PT
13:00 ET
18:00 GMT
19:00 CET
This was announced by Blizzard following Blizzcon. The autobattler is available in the 'modes' tab of the Hearthstone main menu, so search there to see if the new mode is live.
Hearthstone Battlegrounds trailer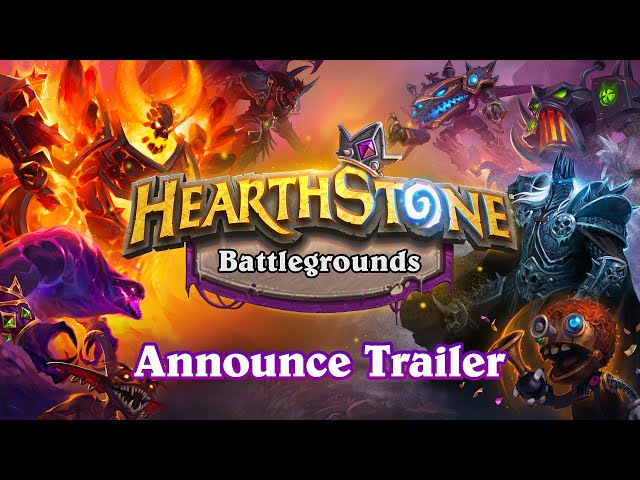 As you can see from the Hearthstone Battlegrounds trailer, the new game mode is an eight player experience where you can play as 24 playable Hearthstone Battlegrounds heroes, swapping minions in an out at Bob's Tavern to face off other players.
The game looks rather exciting right now, but we'll have to wait for the Hearthstone Battlegrounds release date on November 12 to really see how the new mode performs. Will it be like Arena and a staple in Hearthstone, or will it fail in balancing its hero powers and cards? Only time will tell.