Hometopia is an upcoming simulation game that genuinely sparks so much excitement deep within me. It blends all of my favorite House Flipper qualities with The Sims 4's own dollhouse-esque vibes, creating an irresistible wholesome gameplay experience. Hometopia is all about what you can create, whether you choose to design your dream home or a Barbie-inspired mansion. The fun doesn't end there, though, as the game actually supports co-op so you can build alongside your friends.
The developer explains, "The essence of Hometopia is not just in building; it's about finishing, perfecting, and collaborating." In other words, it's all about the progress you make alone or with others and the feeling you get once you've completed something. "We provide the platform for you to complete simple or ambitious renovations, team up with friends, and continuously refine your design skills."
You can follow a career path and complete jobs, develop entire neighborhoods, provide one-room makeovers, or create a gorgeous home in a biome of your choice. Hometopia costs $19.99 during Early Access, with future DLC included. If you're interested in checking out yourself, you can hop in and build to your heart's content quite soon. The upcoming game's early access release begins on Wednesday, September 27.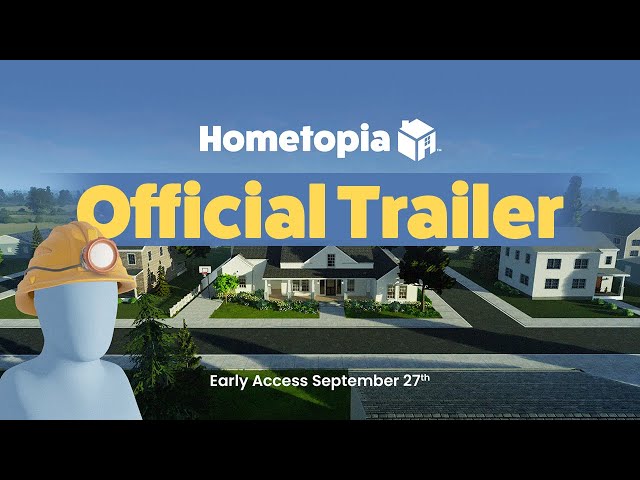 You can find out more about Hometopia on Steam if you want a deeper dive into the upcoming game's features. Personally, I'm excited to experience the sort of freedom Hometopia offers. A grid-less, low-stress environment in which I can customize everything? Yes, please. I've been awaiting the return of a color wheel in a game like this since The Sims 3.
Who doesn't love a relaxing experience? The dev says, "whether you're seeking a relaxing escape, a fun cooperative project, or an opportunity to enhance your design flair, our game has been crafted with you in mind." Hometopia seems like the perfect co-op game to play while waiting for more news about The Sims 5.
For some more creative fun, be sure to check out our rundown on the coolest sandbox games around right now. You'll never run out of things to build or make. Alternatively, you can browse through a few of the best games like Stardew Valley if you're looking for a more farming-focused way to scratch that cozy itch.