A Honkai Star Rail competition from developer HoYoverse is offering players the chance to win hefty sums of Stellar Jade in the turn-based anime game. The first Honkai Star Rail annual creator competition, titled 'Multiverse Vistas,' kicks off today with initial submissions open through until the beginning of July. Once people have submitted their art, music, video, and cosplay entries, there will be an official review and a voting process, with cash prizes and real-life loot up for grabs alongside in-game rewards.
There are four categories which you can submit works to. The first is 'visual arts' and encompasses any visual artworks including character portraits, landscapes of in-game locations and settings, and multi-panel comics. Single art pieces must use two or more colours, with "monochrome line art or rough sketches" not accepted, though comic or manga designs have no colouring restrictions and may use spoken lines if desired.
The second category, music, includes both covers of in-game music, whether instrumental, vocal, or remixes, and completely original works based on the characters, world, and story of Honkai Star Rail. You're allowed to make changes to lyrics if you like, but your composition has to be submitted as a video and must be longer than 60 seconds.
The third category is video and can be gameplay edits or re-edited takes on existing cutscenes, as well as funny videos, hand-drawn or other custom animations, and MMDs (in case you're not quite that deep in the anime hole, MMD is a popular freeware animation program that's most commonly used to create dance routines or simple 3D animations). Your submitted work must be at least 30 seconds in length.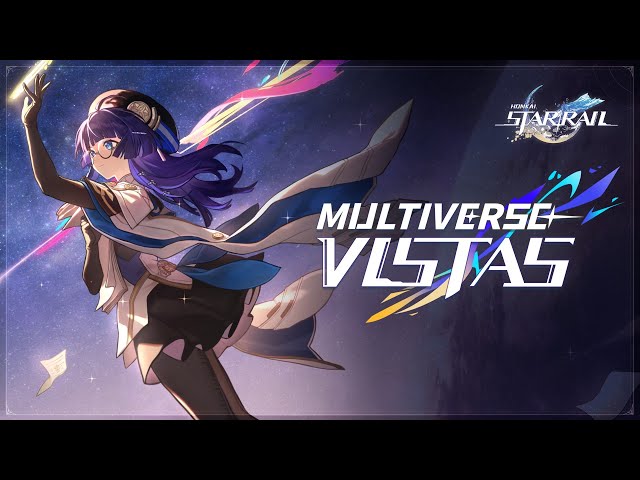 The final category is cosplay and must feature real-life cosplayers wearing either original clothing created themselves based on Honkai Star Rail, or "costumes consisting partially or wholly of pieces of pre-existing clothing, props, or accessories that have been modified or repurposed." You're allowed to make use of special effects and post-processing, and can submit your cosplay as an image or video.
Honkai Star Rail Multiverse Vistas rewards
All entrants who submit a work that meets the shortlisting criteria will earn 60 Stellar Jade once the voting evaluation period begins. Here are the rewards, which are the same for each of the four categories, with a total of 20 winners for each category:
Best in category (1 winner) – $3,000, character bundle, 10,000 Stellar Jade, HoYoLAB memorial decorations.
Runners-up (4 winners) – $1,500, resin shaker stand, 5,000 Stellar Jade, HoYoLAB memorial decorations.
Outstanding works (10 winners) – $250, character pillow, 3,000 Stellar Jade, HoYoLAB memorial decorations.
Popularity Award (5 winners) – $100, acrylic art board.
In addition to this, 10 'Lucky Award' winners will each win a Honkai Star Rail mousepad.
Honkai Star Rail Multiverse Vistas – how to enter
Multiverse Vistas submissions are open May 13 to July 1. The review period will take place July 1-8, followed by voting on July 8-15. Winners will then be announced the week of July 15-22. You can find additional terms and conditions and submit your entries via the HoYoverse website.
For a quicker way to grab some goodies, make sure you've entered all the Honkai Star Rail codes that are currently live. Then, check out the next Honkai Star Rail banner to see which characters are up for grabs, and browse our Honkai Star Rail tier list for the best characters to use.