Kingdom Come: Deliverance promised a realistic medieval roleplaying experience when it launched early last year, and it delivered – there's brutal combat, a gorgeous and dangerous world, and the ability to throw dung at the wall. But almost as soon as it launched, players were tinkering with it under the hood. Now, Warhorse Studios has released official modding tools to make that process a bit easier.
It's a remarkably powerful set of tools. Included with the latest patch for Kingdom Come: Deliverance, the suite includes SKALD, which is Warhorse's in-house tool for writing just about any text that appears in the game. That includes NPC dialogues, quests, objectives, journals – anything in the game that involves the written word probably went through SKALD.
There's plenty more, though. You can swap out assets (replace swords with Half Life crowbars, for instance, as in the video below) or completely overhaul the look of the game with new graphics. Or you can add completely new elements to the game. This toolset includes just about everything you need to be able to create whatever you want in Kingdom Come: Deliverance.
Here's a quick video introduction to the toolset: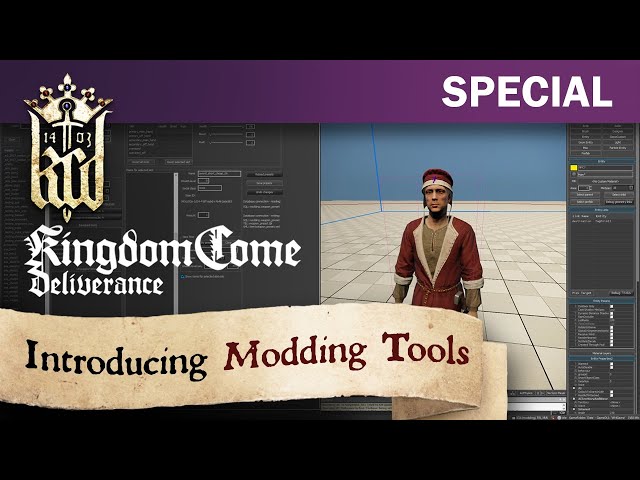 As you might expect, tools with this much power can be tricky to use, and there's a bit of a learning curve – particularly if you're new to AI scripting or working in CryEngine. This isn't software that was designed for a mass audience, so you'll need to learn some developer tips and tricks to really make it sing. Fortunately, Warhorse has also released the raw game data as well, which means you can fly around and look at all the intricate invisible machinery the developers use to make the game work.
But if you're like me, you're more interested in the end products – the mods that change the way the game plays. In that case, check out our list of the best Kingdom Come: Deliverance mods, which run the gamut from unlimited saves (thank goodness for that one!) to in-game lightsabers and facial customization for Henry.
You can find more information about modding Kingdom Come: Deliverance over at the Nexus Mods hub.