Like a Dragon Infinite Wealth looks even more ridiculous than its predecessor, and it's arriving very soon. The sequel to 2020's Yakuza: Like A Dragon, the Like A Dragon Infinite Wealth release date is set to arrive shockingly soon, and it's packed with all manner of weird and wonderful activities, along with new jobs inspired by its Hawaii getaway setting. The ridiculous RPG game is now available to preorder on Steam, and the Valve storefront notes that Like a Dragon 8 contains "frequent nudity or sexual content."
With the Like a Dragon Gaiden release date set to deliver Kazuma Kiryu's side outing in November, it seemed like we might be waiting a little while longer before the next installment of the main series, which has transitioned from its classic brawler style into a ludicrous turn-based RPG, to bring back new lead Ichiban Kasuga and the rest of the Yakuza: Like a Dragon cast.
It appears that's not the case, as developer RGG Studios now reveals that the Like a Dragon Infinite Wealth release date is Friday, January 26, 2024. That's right, we'll be getting hands-on with Ichiban and co in just about four months' time. The team also reveals a hefty chunk of what we can expect, with an extensive gameplay trailer and an even bigger story trailer for those of you who can't wait to find out what's going on.
As revealed in the gameplay trailer, Like a Dragon Infinite Wealth is absolutely packed with new stuff, much of which appears to be inspired by the crew's jaunt to Hawaii. That means the new Samurai job is joined by the likes of the lasso-slinging Desperado, the stylish Geodancer and Pyrodancer, a power washer-wielding Housekeeper, a Bruce Lee-style Action Star, and even a Sujimancer – seemingly a Pokémon trainer equivalent that can utilize the various weirdos and perverts that you collect as part of the returning 'Sujimon' minigame.
Also making a return is the Poundmates system – Like a Dragon's equivalent of summons (and yes, Nancy fans, it looks like everyone's favorite killer crawfish is set to make a return). There's also all manner of weird and wonderful minigames, which include full-on Sujimon battles where you pit your perverts in 3-on-3 fights against rival trainers, a 'Crazy Eats' biking delivery game that sees Ichiban stunting over pedestrians and cars to deliver burgers and pizza, and the return of classic Sega arcade games including the likes of Virtua Fighter 3 and Sega Bass Fishing.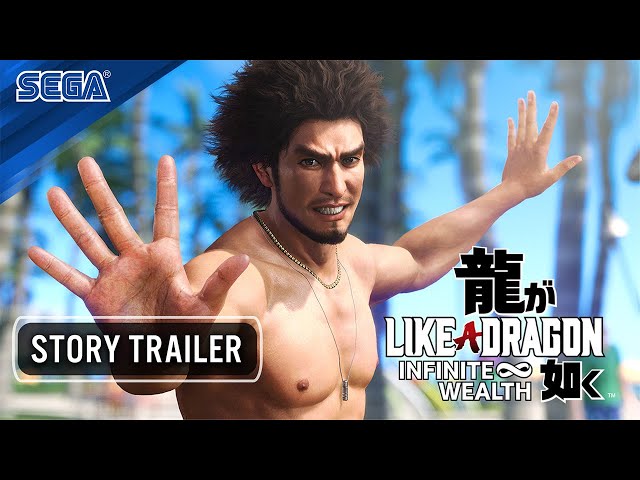 The ten-minute story trailer gives us a glimpse of just how vast the tale of Infinite Wealth is set to be, presuming that even such a long look at the narrative aspects leaves plenty to be uncovered. It also gives us a better insight into why Ichiban's crew are heading to the island of Hawaii – after uncovering the bizarre circumstances of his youth in the previous game, he's now in search of his birth mother, whom he's never met. Danny Trejo is also joining the cast as Hawaii-based gang leader Dwight.
You can pre-purchase Like a Dragon Infinite Wealth now on Steam. If the teases of its new beach setting, that reveal trailer featuring a naked Ichiban in Hawaii, a 'Miss Match' dating minigame, and all those bizarre perverts you'll encounter in its battles (Yakuza: Like A Dragon's oiled-up, cash-covered business executives still haunt my dreams) weren't enough to give the game away, Valve's storefront even goes so far as to note that Like A Dragon Infinite Wealth contains "frequent nudity or sexual content."
While we wait for that to roll around, then, you'll find plenty more sauciness among the best sex games on PC. Otherwise, keep track of what else is on the calendar with all the best upcoming games for the rest of 2023 and beyond.