Following the first glimpse we got of Minecraft Earth in real-time at the Apple Worldwide Developers Conference last month, the closed beta for the Pokémon Go-esque, augmented reality game has now been announced. And with it, a video showcasing Minecraft Earth gameplay, plus some nuggets of news on what it'll feature.
In the Minecraft Earth: Closed Beta Announcement video, posted on the official Minecraft YouTube channel (via Eurogamer) and included in the article below, you can get a good look at "the beta experience" of the game. As you can see in the footage, the game centres on your location, with you recreated as a player character (the video kicks off with the default Steve, but you can change this), and a map resembling your real-life environment built up around you – all in Minecraft's iconic art style, of course.
Similar to Pokémon Go, you'll set off to explore the AR world, but instead of chasing down little battle buddies, you'll encounter 'Tappables' scattered around the map. As the name suggests, you'll tap (interact with) these to find out more – and especially, what they yield. For example, tap chests and you'll get things like those building materials you'll surely be itching to test out. Everything you tap heads straight into your inventory, giving you valuable XP to boot. Finding more Tappables will get you levelling up.
The beauty of Minecraft Earth's construction aspect is showcased in the video too, with any flat surface you see offering the chance to create. Any building goodies you collected via Tappables can be used in a "build plate", which allows you to design your creation in a small-scale view, seeing how it'll all work. Once you're happy, you can grow it to a life-sized scale, recreated by the AR over a location in the real world. You can even go inside it. Pretty neat. Level up, and you'll get access to more plates.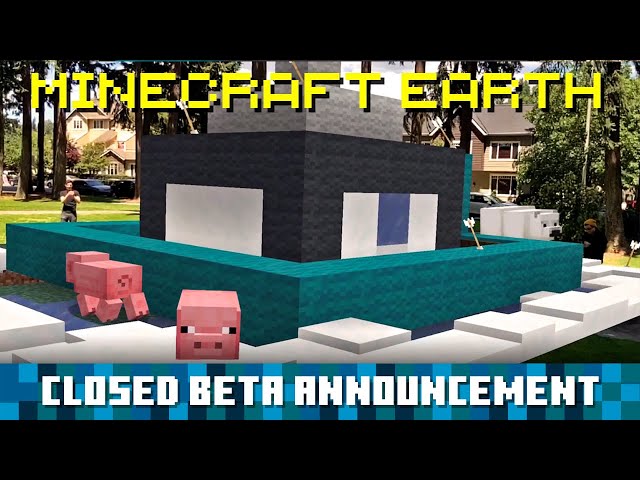 The video also talks about how multiplayer collaboration will work – you'll play with friends you invite, and each player in your world will be able to gift (or take!) things from each other's build plates.
The video says "this is a living, breathing Minecraft world" – and the gameplay video certainly seems to reflect this. If you're keen to see the new AR game in action, check out the video above.
More Minecraft! Check out the best Minecraft mods
The likelihood of Minecraft Earth arriving on PC still look slim to nought, but as PC players it's always nice to see new places and ways to play Minecraft. As we mentioned above, the closed beta is coming very soon. If you want to join the beta, head over to the Minecraft website and sign up for the chance to jump in.