Nvidia hasn't exactly launched the new RTX Super series, but today does act as the great GeForce unveiling. No-one's able to keep much of a secret these days, so we all have a pretty good understanding of what's on the table with the new GPUs. The Nvidia RTX 2070 Super and the RTX 2060 Super are both getting their official performance reviews today, ready for a full release on July 2, and the RTX 2080 is waiting in the wings, ready for its own solo launch July 23.
We've got our own reviews dropping today, with full performance analysis, though there will be two important sets of benchmarks missing… and they're coloured red and come from the AMD RX 5700 XT and Radeon RX 5700. We're not allowed to talk about the AMD Navi RDNA-based cards' performance until Sunday, so it does feel like we're only getting part one of the GPU story today.
But today's all about the new Nvidia RTX Super cards, and to some extent so will this Sunday's July 7 launch of AMD's Navi architecture too, thanks to this unveiling. That's some smart marketing by Nvidia, though it has meant for a hectic week and weekend of GPU benchmarking for some…
But I'm not bitter. I love a new graphics card release and these new Super cards are almost everything we wanted from the RTX Turing range when it first launched back in September last year. It's just that it's taken ten months and some slight performance pressure from AMD to effect such a change…
Screen queens: These are the best gaming monitors around today
Starting at the bottom we have the RTX 2060 Super and it's a little more interesting a GPU refresh than just unlocking a few more cores from the base card and upping the clock speed. Though Nvidia has done that it's also rewritten the memory configuration to make it actually far closer to an RTX 2070 Lite than an upgraded RTX 2060.
| | | | | |
| --- | --- | --- | --- | --- |
| | RTX 2060 Super | RTX 2060 | RTX 2070 Super | RTX 2070 |
| GPU | TU106 | TU106 | TU104 | TU106 |
| SMs | 34 | 30 | 40 | 36 |
| CUDA cores | 2,176 | 1,920 | 2,560 | 2,304 |
| Tensor cores | 272 | 240 | 320 | 288 |
| Memory | 8GB GDDR6 | 6GB GDDR6 | 8GB GDDR6 | 8GB GDDR6 |
| Memory bus | 256-bit | 192-bit | 256-bit | 256-bit |
| TDP | 175W | 160W | 215W | 175W |
| Price | $399 | $349 | $499 | $499 |
The new RTX 2060 Super now uses 8GB GDDR6, running across an aggregated 256-bit memory bus, instead of 6GB GDDR6 on a 192-bit bus. That gives it a whole lot more memory bandwidth as a result – 448GB/s vs 336GB/s – and means it's an impressive little 1440p gaming GPU now.
It's also the card that effectively replaces the hugely popular GTX 1080 in terms of gaming performance, and does so at its new $399 (£379) price point.
By that same token the new RTX 2070 Super is aiming to replace the GTX 1080 Ti for $499 (£475), and again is more akin to an RTX 2080 Lite than the RTX 2070 it's ostensibly retiring. That's because it's actually using the same TU104 GPU as the current RTX 2080.
The OG RTX 2070 already uses the full TU106 GPU and so there was no room for Nvidia's third-tier Turing to grow into. The new RTX 2070 Super is specced, and performs, so close to the current RTX 2080 that it would be in real trouble if it wasn't too being replaced by its own Super card.
| | | |
| --- | --- | --- |
| | RTX 2080 Super | RTX 2080 |
| GPU | TU104 | TU104 |
| SMs | 48 | 46 |
| CUDA cores | 3,072 | 2,944 |
| Tensor cores | 384 | 368 |
| Memory | 8GB GDDR6 | 8GB GDDR6 |
| Memory bus | 256-bit | 256-bit |
| TDP | 250W | 215W |
| Price | $699 | $699 |
We finally know the full specs of the RTX 2080 Super card too. As expected, the new Turing card will come with the full TU104 GPU, the same as Nvidia used in the Quadro RTX 5000 pro cards. It would have been rather too generous for team GeForce to give us another cut down version of the Titanesque TU102 silicon for under $700 after all.
While the RTX 2060 and 2070 Super cards will hit the shelves on July 9 – just two days after the AMD RX 5700-series goes on sale – the RTX 2080 Super isn't going to be with us until July 23, and will cost $699 (£669).
The RTX 2080 Super will also come with higher spec GDDR6 memory than the rest of the pack, running at 15.5Gbps, and with the full TU104 chip we get 48 SMs and 3,072 CUDA cores.
If there's a "what about the Founders Edition tax?" question hanging in the air then I'm pleased to say that Nvidia has retired it for Turing… at least for everything below the RTX 2080 Ti anyways. So yes, the MSRP quoted here for the RTX Super cards is the starting price for both the Founders Edition cards and for the third-party GPUs coming from the usual suspects next week.
And if you want some numbers before you get to the full reviews of the two cards here are the 1440p results for the current chips we can talk about right now. Yes, there's a Navi-shaped hole in there until Sunday…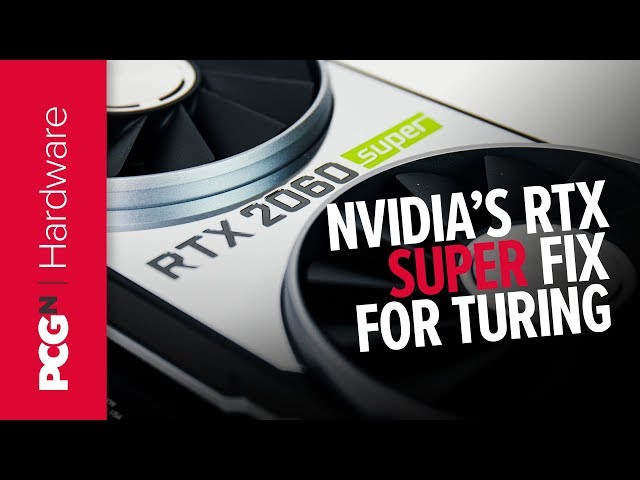 There it is – Nvidia's official Navi-spoiler. A direct response to AMD announcing its performance targets for the RX 5700 XT and the RX 5700. Of course the Super range has been planned for a lot longer than just the E3 reveal the other week – though you'd think team green could've come up with a better name than that….
With the way the new Turing lineup sits it's coalesced into a far more enticing generation of cards than the over-priced initial ramp. These are still high-priced graphics cards, but their price/performance metrics now make a whole lot more sense, and it's going to take a Herculean effort for AMD's Navi cards to top this Super reveal.
There's only one last thing to say… what do you think of that Super shiny shroud and the green logo? We're split in the office. I'm not keen on the off-brand green colouring Nvidia has used on the card, and that mirror finish looks kinda tacky, and is one hell of a fingerprint magnet too. But Jacob likes them because he thinks they're shiny and he has no taste for the finer things.
Jacob's 'proud to be a shiner,' but let us know what you reckon on this article's Facebook and Twitter threads.