Paradox Interactive is set to announce a new grand strategy game at this year's PDXCON, which is taking place in Berlin October 19-20. The company teased the announcement in a cheeky video posted today.
"In October, we're going to take all of [Paradox Development Studios], stuff ourselves into a big airplane, and go to Berlin," says Dan Lind, Paradox's game director for Hearts of Iron IV.
Dan Lind, another PDS game director, pipes in. "I'm also told we're announcing something," he says, as the others briefly feign surprise.
The accompanying email, of course, lets the teasery cat out of the bag – Paradox will be announcing a new grand strategy title at the conference. What it is, however, remains a mystery – which means it's time to get guessing. Could it be a new Crusader Kings? Perhaps Stellaris 2? Or perhaps it's a completely new game, set in one of the few historic eras Paradox hasn't touched yet?
It could be just about anything, really. Except one thing.
"It's not Victoria III, guys," says Henrik Fåhreus, Crusader Kings II's game director.
Here's the video: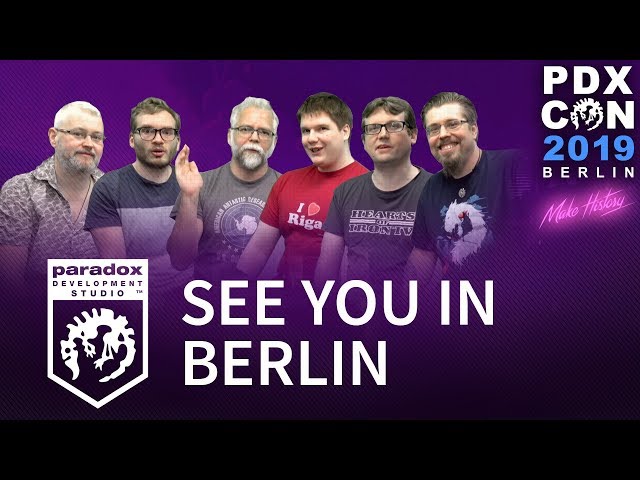 Fans will no doubt be disappointed to hear that the next game won't be a new Victoria. Victoria II, which covers Europe's tumultuous 19th century, came out way back in 2010, and grand strategy diehards have been waiting on a new one for a while.
Assume command: The best strategy games on PC
Tickets are still available for PDXCON, if you're interested in being right on hand when Paradox unveils whatever they're cooking up next. Personally, I'd love to see them take another stab at East vs. West, the Cold War strategy spinoff from Hearts of Iron III that was cancelled back in 2014. And since they're holding PDXCON in East Berlin, they'll be in a perfect place to announce exactly that.