Ubisoft has so far kept pretty tight-lipped about when we can expect upcoming tactical FPS Rainbow Six Quarantine. We know that it'll be an early 2020 release (though you can sign up for the chance to play Quarantine early), but the studio hasn't provided a specific date just yet. However, it now looks like we can get an even better idea of when it'll drop – Ubisoft CEO Yves Guillemot has indicated it'll be before April, 2020.
In a recent financial call (spotted by GameInformer, via VG24/7), Guillemot said that the studio plans to launch the game before the end of the fiscal year – which is basically before the end of March, 2020.
As the site notes, this fits into Ubisoft's pattern of releasing a game around the start of the year – in January or February – and it's entirely possible this game might be the title to kick off 2020 in parasitic alien monster-fighting style. More so because we already know some of the studio's other big titles, Gods & Monsters and Watch Dogs Legion, are heading to PCs on February 25 and March 6, 2020 respectively, so a January or early February release could make sense.
Other than this, there's not a huge amount of information of exactly what Rainbow Six Quarantine will bring yet. We know that it'll have some similarities to previous Siege event Outbreak in that it's a co-op, PvE tactical FPS based on an alien threat that teams of three players will have to take on (though Ubisoft has indicated that the deadly enemy will be even deadlier this time around).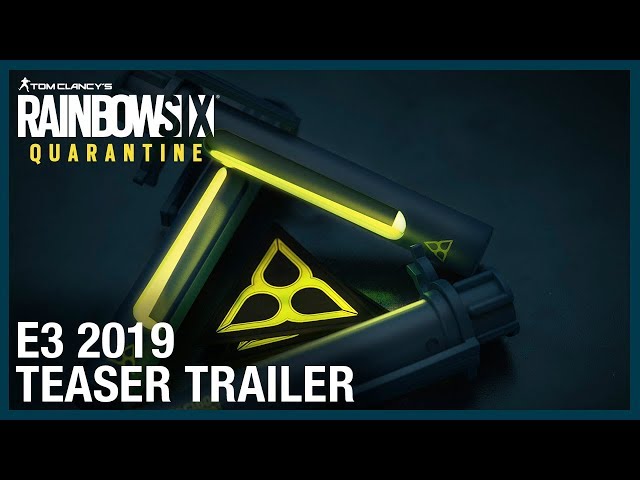 The E3 trailer (above) shows that it'll tie in to Siege to some kind of extent, with two of its operators, Ela and Vigil, featured helping the main character. It could potentially also feature some roguelike elements, based on the Ubisoft Store description of the game.
With Gods & Monsters' and Watch Dogs Legion's release dates already announced, hopefully Rainbow Six Quarantine will follow soon. At least now we know we won't have to wait too long to jump in.