Fans new and old of League of Legends, whether you're coming over from Arcane or have played the MOBA game since its inception, will find something to love in Song of Nunu. We had the chance to talk with Raúl Rubio Munárriz from Tequila Works and Rowan Parker from Riot Forge at Gamescom while taking the game for a spin, and it's abundantly clear that anyone, a die-hard LoL fan or not, can find something to enjoy with Song of Nunu.
Song of Nunu sees you take control of a boy and his yeti, Nunu and Willump, as they undergo platforming challenges, combat, and puzzles in the frozen Freljord. A few other LoL champs will show up on the way, but the story is really about their relationship, with Nunu's character and Willump's adorably expressive animation taking center stage.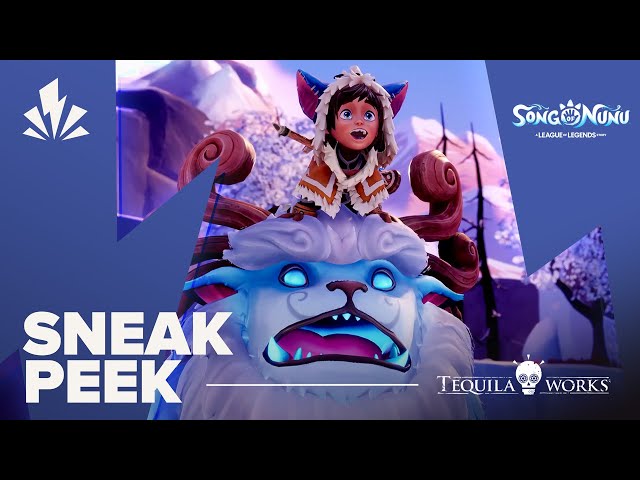 If, like me, you've only seen Arcane and barely know League of Legends don't worry, as Parker makes it clear that Song of Nunu is about character and story at its core, with LoL providing the wider universe.
"We have a very hard rule of 'you don't need to know anything at all about League of Legends to enjoy one of the games,'" Parker says. "But if you do happen to know anything about League of Legends, there's lots of easter eggs and lots of fun, which makes it more rewarding."
"There's still a lot of love for fans of League of Legends in the game," Munárriz of developer Tequila Works adds. "But it still has to be a good game to be a fun game. It has to be a game that deserves to be made, so of course, there is this love for the fans, but again if you know nothing about League of Legends you can still enjoy it."
This philosophy was immediately apparent to me during my brief play time, as the focus is on how, mechanically, emotionally, and narratively, Nunu and Willump interact. You'll either be running around as Nunu, using his flute from LoL to play Ocarina of Time-style melodies to solve puzzles, or he'll jump on Willump's back for traversal and combat.
Everything about Song of Nunu serves these two characters, and between Nunu understanding Willump's grunts and the Yeti's own incredibly expressive animations, that became clearer the more I played. While I was just in the early game, Song of Nunu didn't want to overcomplicate itself with its mechanics. Parker and Munárriz tell me that Nunu does get more complex, but not so much that the story takes a backseat.
"We really have an opportunity to explore and tease out these characters in the world in more bespoke, story-driven experiences like this," Parker adds. "Half of this already existed in League of Legends, but if you can't see the seams and the stitches that means we've all been doing a good job."
Much like Riot's approach to Arcane, Song of Nunu won't overload you with loads of LoL champions. Nunu and Willump won't be the only champions to appear in the upcoming spinoff, sure, but don't expect 50 to show up or something. The idea instead is for champions to appear in games outside the MOBA when it makes sense for either the story or characters. I actually asked Parker about this, who said that Riot Forge never wants to "kitchen sink" its LoL spinoffs by adding too many champions, and Song of Nunu definitely benefits from letting the focus be on the two of them.
In the meantime, we've got your back with a LoL Arena tier list and a list of the greatest fantasy games you should add to your backlog if the world of Song of Nunu appeals to you.