Star Citizen's annual CitizenCon was held yesterday in Manchester and it featured a host of new looks at Cloud Imperium's long-anticipated starship sim. Attendees got to watch a new, multi-stage mission unfold on stage, set on the new planet of microTech.
Cloud Imperium founder Chris Roberts narrated along with fellow Star Citizen developers as they showed off live gameplay from microTech. The demo, which you can view below, begins with a flyover of the icy world of microTech, on a long approach to New Babbage, an upcoming landing zone on the planet. It's a massive city with glittering corporate skyscrapers, and the planet itself shows off some of Star Citizen's new systems, such as dynamic weather and procedurally-placed vegetation. The tall pine trees shudder in the winds of surface-level snowstorms, and characters react to the cold, exhaling visible vapor and shivering.
The mission itself tasked the player with stealing a proprietary algorithm from a corporate server vault. After retrieving a fake ID from a contact in New Babbage, we hop a shuttle ride to a small facility set up in the mountains. From the landing pad there, we're taken indoors and take a shuttle down to the data storage area.
You can watch the first part of the keynote demo here. Here's part two, which I've advanced to the point where we've hopped into the shuttle. For mobile users, that begins at about 41:19.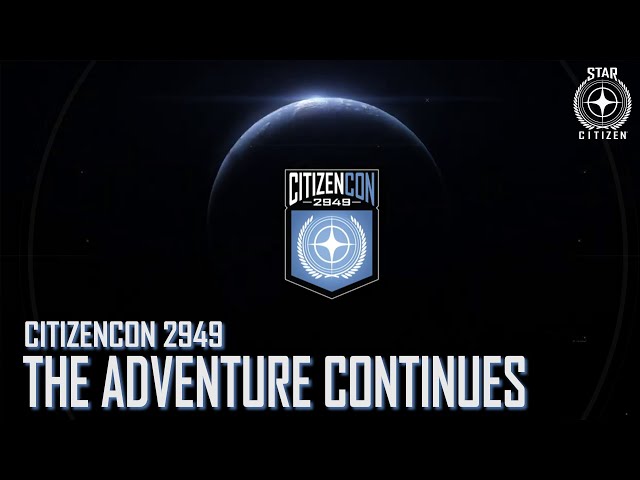 The mission culminates with the player getting spotted by security and fighting their way back out. This is an opportunity to show off a new non-lethal takedown, as well as the player status system that kicks in once the player heads out into the arctic cold without the necessary clothing. As hypothermia starts to set in, vision starts to white out, stamina decreases, and the character tries to shield his face with his hand. When he finally finds a warm Caldera suit to put on, the character's hands are visibly shaking as he goes to put on his helmet.
Related: Check out the best space games on PC
The demo wraps up with a mad dash away from the server facility in a six-wheeled rover, heading to a pickup point in the hotly-anticipated Anvil Carrack. That ship, unfortunately, has seen its arrival in Star Citizen pushed out to February. It's an impressive ship, though, and as another character pilots the Carrack to make the getaway, the player hops into a ball turret on the upper bridge to take down the security fighters that have been scrambled to intercept them following the data theft.
However, you can jump in and try Star Citizen out now by checking out the Free Fly event that starts today.