Starfield ship combat just got a lot more exciting. Despite being a game all about space, the long-awaited latest release from Elder Scrolls, Skyrim, and Fallout maker Bethesda Game Studios falls a bit short when it comes to interstellar battles. That's all changed, however, thanks to an impressive new mod that completely overhauls the speed, feel, and balance of space combat, introducing new mechanics, weapons, and even manufacturer diversity.
Already soaring its way into the best Starfield mods, the Apogee starship combat overhaul mod from creator 'Ashkaari' is exactly what I've been hoping for from the game's enthusiastic community modders. I've spent almost no time actually in my ship during my time with Starfield, opting instead to fast travel from planet to planet because fighting in your Starfield ship feels lumbering and unsatisfying – not what you'd hope for or expect from one of the best space games.
Thankfully, Ashkaari's Apogee overhaul is here to save the day. "Apogee greatly increases the speed and intensity of space battles," they promise, and they're not messing about. "Fly much faster, make use of numerous rebalanced and new engines and weapons systems, all designed to give you a more engaging and interesting experience."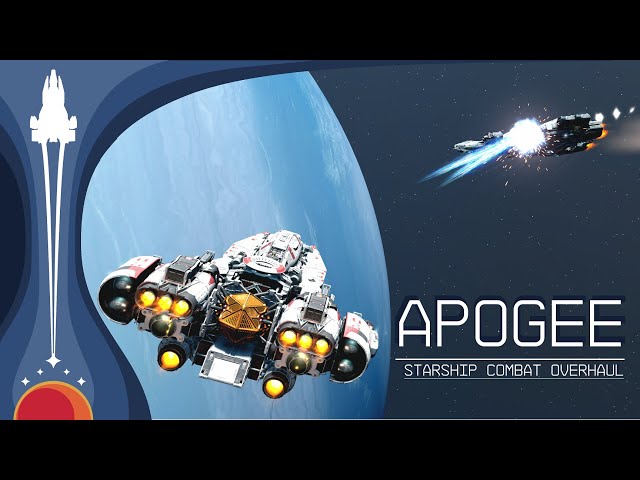 It's clear right from the offset just how much thought has gone into the project. There's careful rebalancing and a whole set of newly introduced components. Additive engine speeds mean the engines you apply, the power they can draw, and your overall starship design level will all contribute to increasing your ship's maximum speed, with increasingly powerful components becoming available over time to boost your maximum output even further.
Functional maneuvering thrusters offer you bonuses to your mobility and braking abilities, at the cost of just a small amount of power, with more advanced models available at specific manufacturers' ship vendors. Speaking of manufacturers, Ashkaari has incorporated distinct characteristics to each company's products in the style of Cyberpunk 2077 or Borderlands, meaning you'll be able to determine which specialty you want to lean into rather than there being an objective best choice.
Laser and ballistic ship weapons have been given some much-needed buffs to bring them in line with the base game's powerful particle beams. In addition to this, several new weapons have been added, including 'high volume' weapons such as autolasers and Gatling cannons that sacrifice accuracy for a sheer number of shots to help you deal with more evasive opponents.
If, like me, you've been left cold by Starfield's base ship combat offering, you can head here to get Apogee for yourself and enjoy a much more thrilling experience that'll make you want to get off the planet's surface and into orbit for some high-octane action. Full instructions are included, and you'll just need the simple Plugins Enabler linked from the mod page to get it up and running.
When you're back on solid ground, we've ranked the best Starfield weapons that you can use with your hands, along with the best Starfield skills to ensure you excel in any situation. Still looking for more? While a good Starfield wiki can be a handy source of information, our new Starfield Database goes further, offering you daily news, searchable databanks, and even interactive tools.