Google Stadia's way to stream games may prove to be a rising tide that lifts all boats, a universally enjoyed boon to streaming services everywhere. But while its lumbering figure wading onto the scene has already done quite a bit for validating cloud gaming, it won't be available to all until 2020. Not to worry, Google's arrival on the scene has not deterred its numerous rivals. If anything Google's fiscal might has spurred many of these competing services out into the open to fight for your attention.
Where can you find these services to stream games? We've detailed many of them below for your viewing and streaming pleasure. From the server-based cloud gaming services to free-to-use home PC hosting solutions that allow you to access your personal game library anywhere, we think you'll find something to satisfy your gaming taste buds.
And your PC hardware still has some good years in it yet, despite the rise of cloud servers kitted to the gills with graphics tech. As proven by many of the Google Stadia alternatives we'll outline today that still rely on your home PC for their computational power.
So if you've got a long commute ahead of you, or snapped your Switch in half, don't fret. Below you'll find a breakdown of some of the best game streaming services you can use right now.
Price: free / server rental
Game library: Yours
Stream server: Cloud VM (AWS or Paperspace) or home PC
Device: Windows PC, MacOS, Android, Linux, Raspberry Pi 3
Minimum network: 10Mbps
Rec. network: 30Mbps @ 1080p60
Max resolution: 4K
Cost: Free / rental fee for cloud server
Parsec has become a well-known name in the burgeoning game streaming arena since it was founded in 2016 – and for good reason. The service offers one of the smoothest experiences around, which the company attributes to its native streamer code built upon popular and fast encoders. It's easy to use too. If you want a friend to join you, even in a local co-op game, all you have to do is send an invite to a friend through the app or via a direct link, and once Parsec's installed on their machine, they can play alongside you as if you're both in the room together.
And it also doesn't matter if your gaming PC is team red, green, or maybe even blue come 2020, you're eligible for a little Parsec action no matter your silicon. But while the service is free if you're only hosting your own machine, you will need to rent a VM up in the cloud if you aren't already the proud owner of a gaming PC. Prices start from $0.55 cents an hour, and can reach up to $1.88 an hour for the best GPU/CPU combos from its partner, Paperspace.
Oh, and Parsec is also the foundation of the HP Omen streaming service, so it's not without its major backers in the industry.
Game library: Yours (kinda)
Stream server: Nvidia's servers
Device: Windows PC, MacOS, Nvidia Shield
Minimum network: 15Mbps
Rec. network: 25Mbps @ 1080p60
Max resolution: 1080p
Cost: Free beta
Nvidia's not a stranger to the streaming game, and despite AMD's prolific clients in the streaming biz – Stadia and xCloud – the green team has a network of GPU-powered datacentres up in the cloud ready to beam your favourite games down to you via GeForce Now.
But while GeForce Now utilises its own servers and not your home PC, it allows you to verify your games across popular distribution platforms. That means you can stream games from your own library, but you can also net the benefits of a centrally-located, always on, uber-connected datacentre. The only downside is not all games are supported by GeForce Now. As of today, there are some 400 games supported on the platform, but it's still technically in beta – hence why it's free for the time being.
Game library: Yours
Stream server: Blade's servers
Device: Windows PC, MacOS, Ubuntu, Android, iOS
Minimum network: 5Mbps
Rec. network: 25Mbps @ 1080p60
Max resolution: 4K
Cost: Starts at £13 per month
Blade's Shadow streaming service is not just for gaming, it's actually an entire PC (or server block pretending to be a PC) located in the cloud that you can utilise as you see fit. Except no goddamn cryptocurrency mining, okay, that'll get you booted off the service quicker than you can say bear market.
The Shadow cloud gaming model is about to be updated, and it will make it quite the formidable foe. For the basic monthly investment of £13, you gain access to a timeshare comprised of an Intel Xeon CPU, an Nvidia GTX 1080 equivalent graphics card, 12GB of DDR4, a 256GB SSD, and an internet connection that'll make you weep in awe. It's 1Gbps, so you absolutely don't need to fret about deleting titles only to reinstall them at a later date.
However, spend a little more (£25) and you could be the proud owner of an RTX 2080 equivalent GPU, kitted out with all the kit necessary for real-time ray tracing. RAM, storage, and CPU clock speed all get a little bump, too. Nice.
And if you're really raking in the big bucks, at least £40 a month, you can become the proud surrogate owner of a GPU with power on par with the Titan RTX – a $2,500 graphics card. You also get a couple more cores, 1TB of SSD capacity, and 32GB of RAM.
Behind the service is a robust streamer, and we've found it to be one of the most consistent game streaming platforms going. It's also rather scalable all the way from 720p at 5Mbps to 4K60 that demand the upper echelons of internet connections.
Our favourite use for this service was to turn a diddy Dell XPS 2-in-1 into a mighty gaming machine. The laptop, no thicker than a Buzzard's wing – which is a relative size everyone understands – was capable of "almost seamless" gaming according to my notably absent cohort Dave.
Game library: Yours
Stream server: Home PC
Device: Android, Steam Link hardware
Minimum network: Valve is light on the details…
Rec. network: See above
Max resolution: 1080p
Cost: Free
Valve has been slowing creeping into the streaming market with its Steam Link Anywhere program, now simply called Steam Link. It's largely flown under the radar since launch, probably due to the fact there are only a couple of Steam support pages regarding it, which are light on the details, and little to no discernible effort to spread the good word of what it does. But hey, it does indeed exist. That we know for sure.
You can download this app on any Android device, and with a good upload connection (again, Valve, light on the details), you can stream your home PC games out across the web to your compatible device.
In our experience, however, the Steam Link service is only okay. It's far from the most consistent going, but it's not awful for a brief escapade into the novelty of playing GTAV on a phone. Our problem with the Steam Link service is mostly that there are better alternatives out there.
Game library: Yours
Stream server: Home Nvidia PC
Device: Android, iOS, Windows PC, MacOS, Chromebook, PS Vita, Raspberry Pi
Minimum network: A decent connection
Rec. network: See above
Max resolution: 4K
Cost: Free
Moonlight is by far the easiest and most robust system we've found for streaming, its only caveat being it requires an Nvidia GPU as it's built upon Nvidia's own Gamestream protocol. But seeing as the gaming PC market is overwhelmingly green at the moment, that should mean that the majority of you can enjoy this hearty streamer.
Once you've got the client installed on your host Nvidia machine, you can stream your game libraries over to any compatible device. That's just about every device with a screen, even managing a 4K 120Hz resolution and refresh rate if your tech and internet connection can handle it. We recommend something a little more tame across the web, but either way this is a simple and easy way to get your game library on-the-go.
It also receives our seal of approval for being an entirely free and open-source service. If you want to help out monetarily, the creators ask you send any donations to the Case Western Reserve University Hacker Society.
Game library: Yours
Stream server: Home PC
Device: Browser (Chrome, Vivaldi, Opera, Safari, Brave)
Minimum network: 7Mbps
Rec. network: 15Mbps or better @ 1080p60
Max resolution: 1080p
Cost: Free
In a similar vein to Google Stadia, Rainway allows you to host access your gaming PCs library of games across the internet via basically any browser. It claims to have an ultra-low delay for streaming, based on the Pulsar Engine, and can drive 1080p60 streams with low latency.
Unlike Moonlight and a little more like Parsec, this approach is hardware agnostic, and that means even y'all on brand new RX 5700 GPUs from team red are able to enjoy it to its fullest.
Game library: Sony's
Stream server: Sony's servers
Device: Windows PC, PS4
Minimum network: 5Mbps
Rec. network: 5Mbps or better
Max resolution: 720p
Cost: $20 per month
We bring up PlayStation Now for one very specific reason: it could be about to get a whole lot better.
While the service currently offers a rather tepid 720p stream from Sony's servers, which are loaded with ageing PlayStation games, the console company has recruited Microsoft, its nemesis, to bulk up its servers using its vast Azure datacentre network. Likely feeling the pressure from Stadia, xCloud, and potentially Amazon, Sony will happily put its long-lasting beef on hold to get ahead of the competition.
So while we don't recommend this service right now – unless you desperately want some PS exclusives on your PC – this streaming service will be one to watch for the future.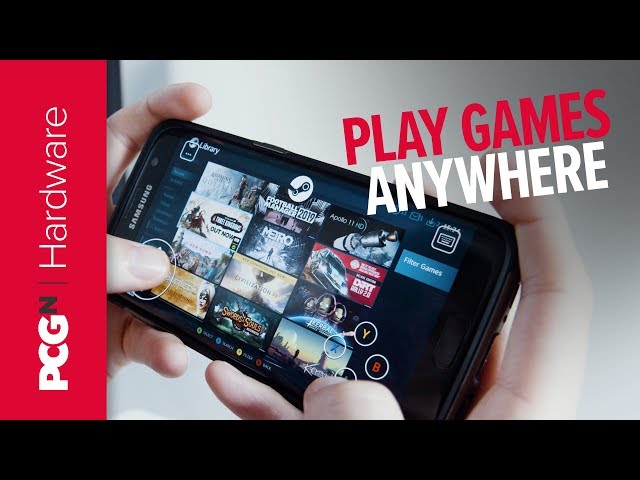 Upcoming game streaming services
And speaking of the future, some of the biggest players in the industry are gearing up for streaming platform launches very soon.
Microsoft, utilising its Azure server might, is ramping up to launch a competing service built upon its Xbox tech. We don't have all the details so far, but at E3 Microsoft confirmed that come October you will be able to use your own Xbox One console as a personal xCloud server, with its truly cloud gaming Stadia equivalent following at a later date.
Also at E3, Bethesda announced something streaming adjacent, too. It's not quite a streaming service as such, rather Bethesda Orion is a game and platform agnostic technology that it claims will enhance the streaming experience for everyone, and make sure game engines are equipped for smooth, low-latency streaming.
And last but certainly not least in the cloud computing space: Amazon. While the giant is yet to announce anything officially, its Amazon Web Services empire, or AWS, is the prime candidate for the Twitch-touting company to ride head-first into the streaming world.