Creative Assembly has wasted no time in giving Total Warhammer fans what they want – more Cathay. Sure, the studio strung out Miao Ying and Zhao Ming, gave us another taste at big boi Terracotta Sentials, but now we've got the full Grand Cathay army roster right in front of us.
Like the other roster reveals for Kislev and Khorne, this one doesn't go into details about specific unit stats, but it does have plenty of information about specific abilities, mounts, even weapon variants where applicable. From Legendary Lords to lowly line infantry, hopefully this answers most of the questions you had about Grand Cathay's army.
As mentioned during Cathay's initial reveal, all units in the celestial empire's army are either aligned to Yin or Yang and units from both alignments can give buffs to each other when working closely together. Looking at the roster reveal, it seems that melee focused troops come under the Yang alignment, while ranged troops follow Yin. Generally speaking, Cathay seems to favour ranged combat, although the melee troops they have at the higher tiers are no joke.
We're still waiting on details regarding the rework to siege battles, which was slated to be talked about alongside the Cathay reveal as the Warhammer III race are quite big on defence, what with their great fortresses and all.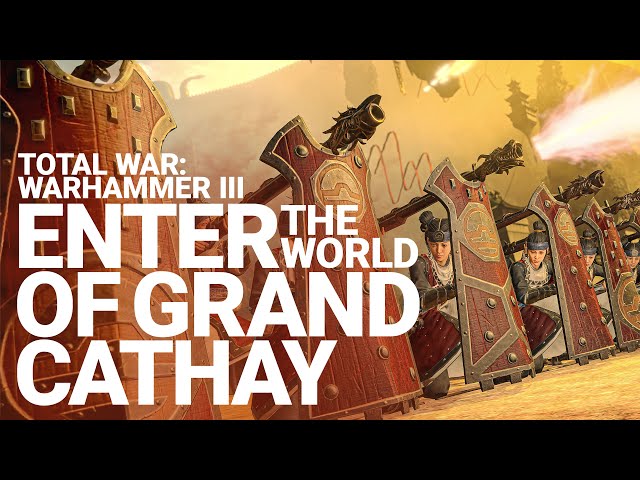 After that, there's still the early-adopter bonus race to talk about – which is probably Ogre Kingdoms – and I'd be surprised if we didn't see more about the Tzeentch Chaos faction, given that they are the enemy Cathay are fighting in all the trailers.
Total War: Warhammer III Total War: Warhammer III Humble $59.99 Pre-order Network N earns affiliate commission from qualifying sales.
Total War: Warhammer III is now due to release in early 2022, but pre-orders are already available. It will come to PC via Steam and the Epic Games Store.