When the new Trackmania launches – after a brief delay – June 1, there will be three points of entry for players who want to speed along its gravity-flouting tracks. Those include a free-to-play starter edition and two paid subscription editions, each geared for fans of different intensities.
"Trackmania is a universal racing game and with three levels of engagement, we aim to fit every player's gaming preferences," said Florent Castelnerac, managing director at Ubisoft Nadeo. "The Starter Access, which is free, is a great foot in the door for new players. The Standard and Club Access will support creation and sharing tools for our more advanced players."
The free-to-play Starter Access for Trackmania will grant players access to a selection of 25 tracks that are rotated out on a quarterly basis. Starter Access players will be able to earn medals and post scores on regional leaderboards, and they'll be able to try out other player's creations on the Arcade Channel. They'll be able to try out the track, replay, and skin editors, and compete in the weekly Nations League for casual competition.
Standard Access costs $9.99 USD per year, and adds access to more player creations like 'Track of the Day.' This level also includes full use of the track and replay editors and map review servers. Standard Access players can participate in daily competitions and will be able to keep every Track of the Day and official campaign track in their Trackmania libraries.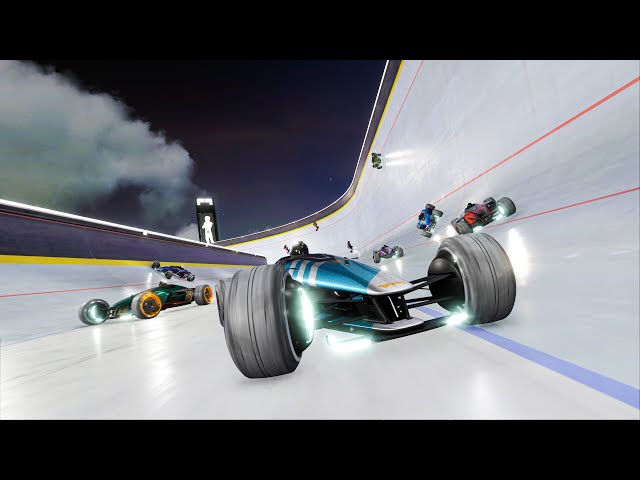 Club Access is the premium tier, and costs $29.99 USD per year or $59.99 for three years. This level includes everything from the free and Standard Access tiers, plus access to clubs and special exclusive content. That includes special campaign, skin customisation, online rooms, training tracks, and exclusive competitions. Club Access players can create their own Trackmania clubs and organise club events, and they'll be able to participate in the Open Grand League to qualify for the Trackmania Grand League.
Trackmania won't be available on Steam this time around – you can pre-order through Uplay and the Epic Games Store.