Poncle announces its new Vampire Survivors DLC Tides of the Foscari, just one day after the surprise smash hit survival game scores success with a huge BAFTA win. After managing to beat out the likes of juggernauts like Elden Ring and God of War Ragnarok to claim the Best Game BAFTA award (and another for Game Design), the team at Poncle reveals its second DLC, which is set for April.
Vampire Survivors: Tides of the Foscari is "set inside a magical academy inside a cursed lake inside a vast primordial forest inside a videogame that was supposed to be about vampires." The paid update packs in eight "allegedly never seen before" new characters, a whopping 13 weapons (across base versions and evolutions), and a large forested stage simply called, 'Lake.'
While it's just a single stage, Poncle notes that – much like the Legacy of the Moonspell DLC before it – the Lake zone is "a huge one that offers different biomes to explore," so be prepared to spend a while getting to know it all. There's also one other particularly exciting addition – character animations! That's right, two of the characters are getting special animations beyond their simple walking stances.
As you uncover the mysteries of Foscari Academy, you'll also hear seven brand-new music tracks, and have the potential to unlock up to 21 new achievements. There'll certainly be plenty of secrets to discover in the forest and Academy, but as for whether we'll see any vampires… Poncle simply says, "as always we can neither confirm nor deny."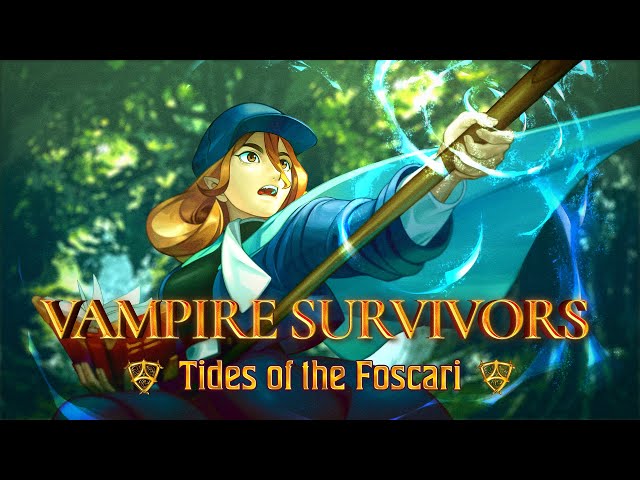 Vampire Survivors Tides of the Foscari release date
Vampire Survivors DLC Tides of the Foscari launches on April 13 on Steam and the Xbox store for PC, alongside the Xbox and mobile versions of the game. It will be available for $1.99 USD / £1.59 GBP / €1,99 EUR. There will also be a small Vampire Survivors 1.4 patch for the base game released at the same time.
Put your eyes on our Vampire Survivors weapon evolutions guide to make sure you've unlocked all the best gear, and take a look through all Vampire Survivors cheats and our guide to how to unlock secret characters in Vampire Survivors so that you're ready to go when Tides of the Foscari releases.