After the wrestling federation itself quietly announced that WWE 2K21 was cancelled, publisher 2K has followed up with additional details on its plans for the license going forward. This year, we're getting a new arcade-style brawler called WWE 2K Battlegrounds. The main simulation series is taking a year off as a result of the disastrous response to WWE 2K20, and the new game will enter development under new leadership.
"We are applying what we've learned [from 2K20] to the next WWE 2K simulation game with a renewed focus on quality and fun," 2K says in an announcement. "As part of that commitment, we are extending the production timeline and will not be releasing a WWE 2K simulation game in 2020 (T2 fiscal year 2021)."
2K has brought in Patrick Gilmore to serve as executive producer and oversee development of next year's game, and "you'll be hearing more from him and the team in the months to come". Gilmore has industry experience running back to the Disney games of the early 90s, and has been everywhere from Dreamworks Interactive to Novalogic, EA, and Amazon in the intervening decades.
The simulation-style WWE 2K games have never been beloved, but 2K14 and 15 in particular were solid takes on the wrestling formula – but it's been downhill pretty much ever since. The series had originally been developed by Japanese studio Yuke's until 2K15, when Visual Concepts came on as a co-developer. 2K20 was the first title to be solely developed by Visual Concepts, and many fans attribute the studio hand-off to the game's especially poor quality.
But as for 2020, we are getting a new WWE game: WWE 2K Battlegrounds. It's coming courtesy of developer Saber Interactive, which previously developed the decently-regarded NBA 2K Playgrounds games.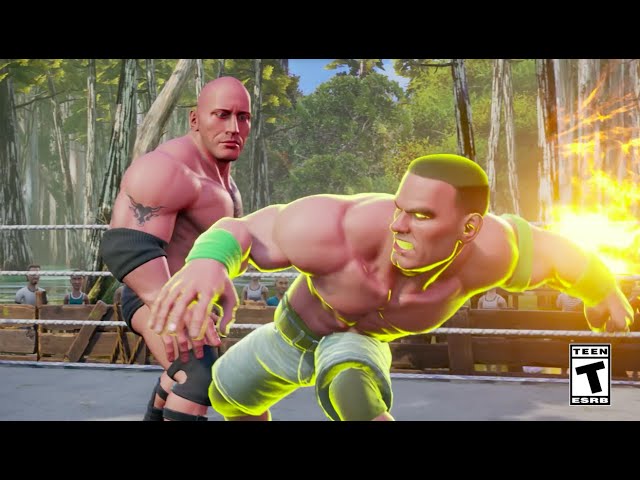 There's not much detail about Battlegrounds beyond what's in the very brief teaser trailer – we've got The Rock, John Cena, Charlotte Flair, and Becky Lynch on the roster, some ridiculous, high-powered special moves, and one ring set in a swamp where you can knock your opponents into the jaws of alligators. It has the spirit, at least, of WWE All-Stars – which is maybe the best news WWE videogame fans could hear.
For now, perhaps some fighting games might fulfill your need for big meaty men slapping meat.