A Diablo 4 hotfix has just been released by Blizzard, temporarily removing one of the most potent farming tools in the RPG game. If you're a Diablo 4 PvP master storming the Fields of Hatred, you're going to find yourself missing out on its greatest prize for a while, as the Hatred's Chosen buff has been stripped from Diablo 4 for the time being.
For those who are enjoying the Fields of Hatred PvP zone, there's one prize that shines above all others. Becoming Hatred's Chosen requires you to rack up a sizable body count, clattering other players to the ground with your best Diablo 4 builds and showing all comers why you're the greatest player on the server.
If you can pull it off, however, the rewards are many. Once you become Hatred's Chosen, you'll be marked on everyone's map for five minutes – letting the whole population know exactly where you're standing, with some rather juicy rewards on the table for anyone who can put a stop to your reign. While you're in this state, however, you siphon up Seeds of Hatred, the PvP currency, with each successful hit, and surviving until the five minutes completes will automatically cash in your full cart of earned Seeds.
That makes it by far the best way to earn PvP rewards – but unfortunately you won't be doing so for a while. On the game's forum, Diablo community manager Adam 'PezRadar' Fletcher confirms, "The team has identified an issue in PvP where we are needing to disable the Hatred's Chosen power in Fields of Hatred."
You'll still see the UI pop-up when you fulfill the requirements for Hatred's Chosen; however, you won't see the buff displayed above your skill bar, and you'll no longer get the on-hit Seeds of Hatred rewards. Fletcher says the team "will be working on a fix in an upcoming update and will update the community when this is enabled again after a fix has been shipped."
In the meantime, there's no shortage of other ways to farm in the Diablo 4 endgame – and if your heart is really set on putting other players in their place, the rest of the Fields of Hatred should still be working as normal, so don't feel like you have to abandon your devilish practices altogether.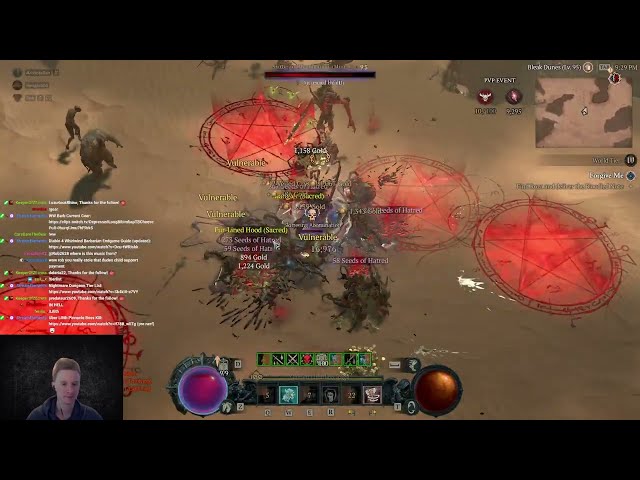 Be careful if you're running through the Fields of Hatred on hardcore – you won't want to lose all your character's progress this close to the Diablo 4 season 1 start date. All that renown will help you get a big start working on your Diablo 4 battle pass for the first season, after all.