When does Diablo 4 Season 2 begin? Taking over once you've cleared up the malignance spreading across Sanctuary in season one, the next chapter in D4's hellish, blood-soaked story includes vampires, vampire hunters (naturally), and a new, inspirational sidekick voiced by Marvel actor Gemma Chan.
We've already calculated how long you'll need to finish each of the Diablo 4 seasons, vital knowledge when it comes to collecting all those D4 Unique items and Legendary Diablo 4 Aspects that will be seasonal exclusives. Similarly, the arrival of Season of Blood determines exactly when your Diablo 4 characters will transfer to the Eternal Realm at the end of Season 1.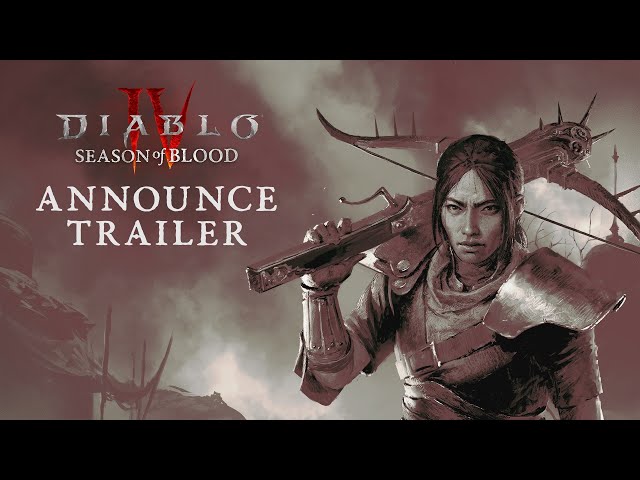 Diablo 4 Season 2 release date
Blizzard confirmed the Diablo 4 Season 2 release date as Tuesday, October 17, 2023, during an announcement at Gamescom Opening Night Live 2023.
Diablo 4 Season 2, more colorfully known as Season of Blood, will introduce five new endgame bosses, as well as updates to renown rewards, changes to status and resistance effects, and an overhaul to gem storage, in that they no longer take up valuable inventory space.
Diablo 4 Season of Blood gameplay
Despite the Gamescom reveal, there is still not much information about D4S2, Season of Blood, other than that we will be hunting vampires with our own new vampiric powers. Accompanied by vampire hunter Erys (voiced by Chan), embark on a whole new journey through Sanctuary, battling the blood-drinking undead through a selection of additional quests and boss battles.
As with Season 1, you must have completed the main campaign, and you need to create another new character to take into the Season of Blood, while your Season 1 character will be moved to the Eternal Realm. This is a great opportunity to try out another of the Diablo 4 classes, and some of the best D4 builds you might not have tried yet.
As you await the Diablo 4 Season 2 release date, there is still time to make sure you've done all you want to do in the D4 Season of the Malignant. Also, to clarify, seasons are separate from the upcoming Diablo 4 DLC, which expands on the main story.
Additional contributions by Anja Koselke and Dave Irwin.