When is the Dreamlight Valley Rift in Time DLC release date? During the first ever Dreamlight Valley Showcase, Gameloft announced three expansions to be rolled out during the game's first year out of early access. The three together make up the Rift in Time story arc, and the first expansion, Eternity Isle, adds a new biome, new quests, ingredients, and more.
The Dreamlight Valley Eternity Isle expansion introduces us to at least three new characters: Gaston, Rapunzel, and Wall-E's Eve. These Dreamlight Valley characters can only be obtained by purchasing the DLC, but can then be taken into your base valley if you'd rather have them live with everyone else. Wherever they live, you can increase their friendship level with a bunch of brand-new Dreamlight Valley recipes, thanks to new ingredients also coming to Eternity Isle. Here's what we know about Dreamlight Valley Rift in Time so far.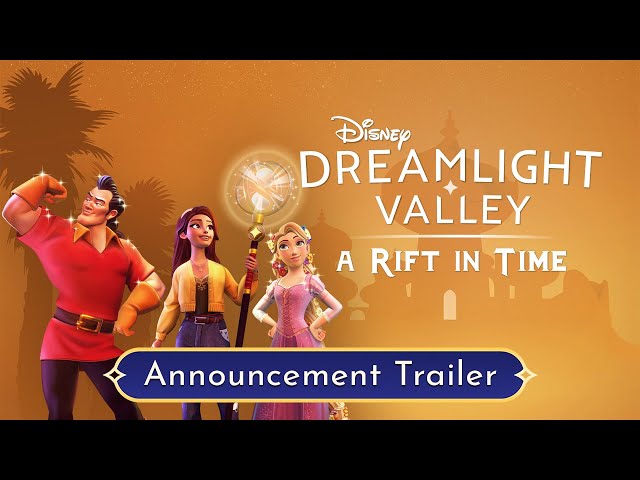 DDV Rift in Time Eternity Isle release date
The Dreamlight Valley Eternity Isle DLC release date is December 5, 2023. The following two Rift in Time expansions will follow in Spring and Summer 2024. Rift in Time is a paid expansion, but other free updates continue to be added to the base game.
The Rift in Time release date was announced during the first Dreamlight Valley Showcase on November 1, 2023, along with a number of announcements to celebrate the game leaving early access. Some new Dreamlight Valley codes were revealed for in-game freebies and Dreamlight Valley multiplayer was finally announced.
Rift in Time tells the story of a lost island that disappeared in a separate story arc to The Forgetting thanks to Jafar's "hunger for power". The Aladdin villain might be the main character of the DLC as he enlists your help to untangle his mess, but he won't be joining his villainous friends Scar and Mother Gothel just yet. Instead, you must learn how to wield the new Royal Hourglass tool and help Jafar fix things before he can consider moving into the Valley.
The Rift in Time map features three new biomes, one for each of the DLCs, which are around the same size as the valley when combined. This is a lot of new content, including new Dreamlight Valley critters, such as the cute monkeys that can be seen in the trailer.
We can't wait to meet these new characters once the Dreamlight Valley Eternity Isle release date arrives, but there's still so much to do before early access ends, and lots more to come – with or without purchasing the DLC. The next Dreamlight Valley update brings a loveable but spooky new resident to the life game, as more and more friends move back into the valley and the story continues.