FFXIV director Naoki Yoshida loves videogames, and he wants you to play more of them. Final Fantasy XIV has long been commended for not demanding your constant attention the way the classic MMORPG grind popularised by the likes of EverQuest and World of Warcraft has done in the past. Now, among plenty of big releases including Zelda Tears of the Kingdom, Star Wars Jedi Survivor, and Diablo 4 headlining the coming months, 'Yoshi-P' says he's making it easier to get gear in FFXIV to give you more time to play other games.
During FFXIV Live Letter 77, the regular livestream aimed at showing off what's coming to FFXIV in the next few months, Yoshida details changes being made to the FFXIV 6.4 raid, Pandaemonium: Anabaseios. Loot drops have been boosted, with reward coffers no longer giving out duplicate armour pieces and the ability to earn the coveted body gear added to the third floor of the raid tier.
The savage raids, typically some of FFXIV's hardest content in a given update, have been given a helpful exchange system to allow you to more easily earn their full rewards with less grinding than before. You'll be able to exchange excess reward tomes for other ones, with the highest tier able to be exchanged for any of the others at a generous one-to-one exchange rate.
"Since I want everyone to tackle a lot of content [in FFXIV] and play other games too I just didn't want this to feel like it will take forever and you're bound to raiding in FFXIV," Yoshida says, having previously shown off himself playing the newest Zelda on a Nintendo Switch at the top of the livestream. "There are so many other games coming out in May and June."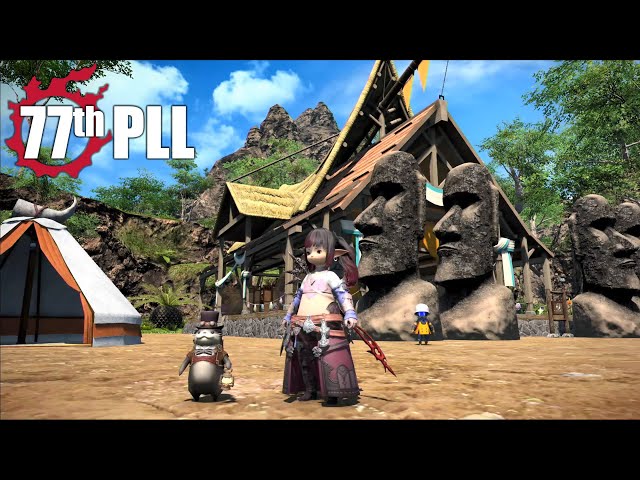 It's worth noting that the Final Fantasy 16 release date, for a game also directed by Yoshida, is in that window (although sadly not yet for PC). The live chat asks if that was the true consideration for this change, but Yoshida emphasises, "No no no, we will try to keep it this way for the future." The discussion can be seen at 1:56:55 in the above video, although note that it takes place in Japanese.
Decisions like this are what have kept me an active FFXIV player for so long. Because I know that it won't take up all my time, I feel like I can afford to jump in and check out the new stuff as it arrives without worrying that I'll lose track of other games. That's not to say I couldn't spend all my time in Eorzea if I wanted; but I never feel pressured to – and it's always nice when games avoid feeling like work.
If you want more on patch 6.4, including a detailed breakdown of all the loot changes, check out our full FFXIV Live Letter 77 recap for all the details. You might also want to check in on the biggest upcoming games now that you'll have more time for them, with the Diablo 4 release date chief among them.